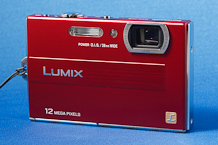 Today I review the new Panasonic Lumix DMC-FP8. NB: This is a long post, but I prefer putting everything on one page to forcing people to click on "next" links all the time.

Introduction
My old Konica-Minolta DiMAGE X60 served me well for years. Recently, though, its soft-edged lens, fading battery life, low pixel count (not that higher is always better, of course) and poor video performance had me looking for a replacement.
When I saw the new DMC-FP8 appear in Panasonic's Lumix range, it jumped to the top of my list. Despite Panasonic's claims of a "futuristic design", it looks very similar to my much-loved DiMAGE. They're both small, flat-fronted cameras — more on how they manage that later — and the FP8 is even available in the same smart red as my old DiMAGE.
My FP8 arrived on Wednesday, so I thought I'd post an initial review, as FP8 reviews seem few and far between at the moment.
What I Wanted
My main camera is a digital SLR, the Canon EOS 400D (or Digital Rebel XTi if you're in the US.) SLR owners looking for a compact often buy at the top end of the market. They choose mini-marvels like the Canon G10, compact cameras that shoot RAW, have full manual control, and big lenses.
But that's not what I was looking for. Too big, too complicated, and, at around £400, too expensive. As my secondary camera I want a simple, cheap-ish camera that I can slip into a shirt pocket. A camera for when I don't think I'll be doing much photography, but where it'd be nice to have something with me if I turn out to be wrong.
First Impressions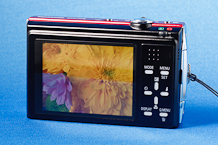 As far as look and feel goes, the FP8 seems to fit the bill. The camera looks stunning — although less so from the back than the front. The all-metal, two-texture front looks classy and feels sturdy, but turn the camera over and the black plastic rear lets it down a little. It doesn't feel quite as strong as my old DiMAGE.
On the other hand, the all-metal DiMAGE had a reputation for strength and build quality, and I don't think the FP8 is any less well built than most modern compacts. The plastic seems to be of good quality, the battery/card compartment door has a sliding lock with a positive "click", and the buttons feel okay in operation.
Taking up most of the back is a large, clear LCD screen and a set of well-laid-out controls. The buttons glow in a nice blue colour when active — not useful, really, but it looks cool.
Folding Optics
The striking difference between the FP8 and most compacts is on the front of the camera, though. Sitting quietly in the top right-hand corner of the camera, the Leica-branded lens is small, and virtually flush with the case. Although the camera has 4.6X optical zoom, you won't see the lens move while you're zooming.
This is because the FP8 uses "folding optics". The lens is mounted at 90° to the usual position, entirely inside the camera, along the length or width rather than facing forwards. A prism reflects the light from the external front element of the lens down into the main optics.
So, the FP8 has no protruding "nose", and it slips into a pocket with supreme ease.
Lens Cover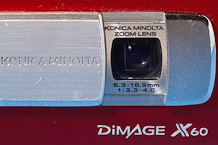 On the other hand, to me there seems to be one key element missing. My old DiMAGE had a built-in lens cover. A nice, chunky metal sliding cover that protected the lens and acted as the on/off switch for the camera.
On the FP8, though, there's no lens cover at all. The camera doesn't come with so much as one of those little cloth bags — so if you're worried about scratching the lens, or getting fingerprints on it, you're going to have to invest in a case.
It seems strange to go to the trouble of designing a slimline camera with folding optics, and not add a lens cover. What's the point of a skinny camera if you have to stuff it in a fattening case to protect its lens?
In Use
But, enough of the bad, and onto the good.
Startup time is excellent. Panasonic quotes a 0.95-second start speed. Slide the "on" switch into position and you're ready to start shooting by the time you've got the FP8 held out in front of you.
Focusing
Focusing is fast and accurate. With the camera off, if I point it at something, hold the shutter button down and turn the camera on, the FP8 starts up, focuses and shoots in less than two seconds. The speed is great for those moments when you see something that you've just got to shoot — that always seem to happen when your camera's in your pocket.
In normal operation, shutter lag is minimal — from pressing the shutter to the shot being taken isn't DSLR fast, but it is respectably quick for a compact.
I've also been impressed with the AF Tracking mode — you can "lock on" to a subject, and the camera will intelligently track it all the time it's visible, trying to keep it in focus. I first tested it from a moving ferry, focusing on a BMX biker on the harbourside. Locking on to his bike, the focus tracking square followed him along the shoreline, and even moved up to track his head when he was partially obscured by a moored boat, dropping back down to the bike when he emerged from the other side. Spooky.
The FP8 has both face-detection and face-recognition technology. Apparently it doesn't just find faces in photos to choose focus points — which it does just fine — but it will also "learn" your friend's faces over time, and give them priority in group shots. I've not taken enough photos for this to start kicking in yet, though. Sounds like a bit of a gimmick, if I'm honest.
Picture Quality
This being my first few days with the camera, I spent most of my time in its "Intelligent Auto" mode. And this does what it says on the tin, being quite smart about the choices it makes.
Outdoors
Outdoors, in good light, the FP8 is undeniably a good camera. Taking it for a walk along Bristol's harbour on an overcast morning, it did well, shooting quickly, exposing correctly, and producing faithful colour. No big over-saturation problems, unlike some compacts, as you can see from the red, green and blue in these shots (click through to view/download the full-size originals.)
Zoom
The FP8's 4.6x zoom will take you from the 28mm wide up to 128mm (35mm equivalent focal lengths.) In good light, images are clear and crisp across the entire lens, including into the corners. This is pretty impressive for a folding optics system. Folding optics have a reputation for soft edges.
Here are two shots of Bristol's Colston Tower, one at widest angle, and one fully zoomed, to give you an idea of the range.
Here's a crop from that last, zoomed image, showing the sharpness of detail at full optical zoom. Not bad.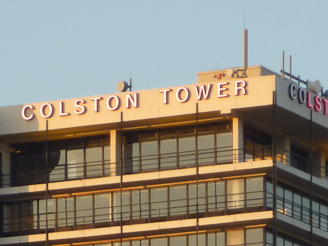 If you want to check out the detail across the whole lens, here's a full-zoom shot of a brick building filling most of the frame. You can click through to the full size and check out the detail for yourself.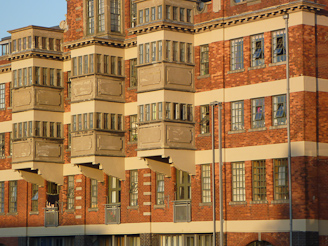 Personally, I'm very impressed with the cross-frame clarity Panasonic have dragged out of their folding optics, and I can see why Leica were happy enough to stamp their name on this lens.
Macro
At the other extreme, there's macro mode. Macro results, especially handheld, are pretty creditable. This is a crop of the very first macro shot I took with the FP8. Nice fine detail, pleasant colours, sensible depth of field.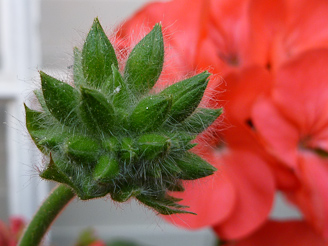 Low light
In lower light, though, results are more mixed. With the FP8 cramming 12 million pixels onto a tiny sensor, there's a lot of noise visible.
Here's detail of the Colston Tower at full zoom again, this time at ISO 400, a little later on in the evening. The Leica lens and image stabilisation still give the sensor a nice sharp image, but the sensor noise/JPEG artefacting are quite nasty, making the overall picture look blurred and lacking in contrast. Click through to see what I mean.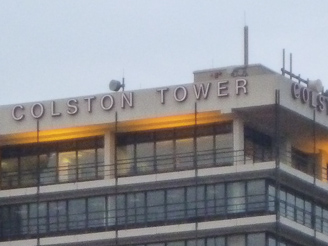 Moving indoors and forcing the flash off, I give the FP8 a really tough test — a subject in a dark restaurant in front of a bright bar. Ramping up to 400 ISO again, the FP8 doesn't do a terrible job, although it could have done better in exposing for Amanda's face, bearing in mind that the face detection found it without a problem.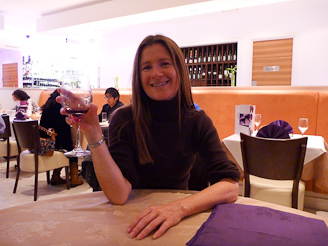 If you look at the full-size version, though, you'll see the noise that's a direct result of the megapixel war — too many pixels, too few photons, and a low signal-to-noise ratio from the sensor.
Focusing performance, at least, remains excellent in low light. A focus-assist lamp kicks in if the FP8 is having trouble seeing what you're aiming at.
I've not had a chance yet to try out the High Sensitivity mode, which reduces resolution while allowing the ISO to bump up all the way to 6400.
Flash
Happily, though, the FP8's flash works better than I expected. With the flash sitting right next to the lens, I'd expected a lot of redeye with every shot. However, the FP8 has both a pre-flash for iris contraction, and a digital red-eye reduction system, presumably helped out by the face recognition.
Turning the flash on and re-taking the shot, the results improve. It's by no means perfect — there's the "whited out" look of most onboard flash shots — but Amanda's face is well-exposed, and while you can detect a hint of red-eye, it's not one of the awful demon stares foisted on us by some cameras.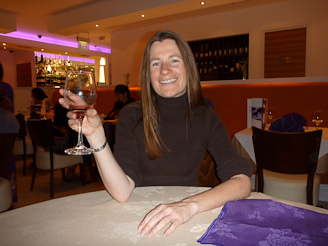 Fundamentally, if you want to take fantastic photos in a dark restaurant, then go spend a lot of money on a DSLR with a nice fast lens, or a good external flash. No cheap, tiny compact will be great in light this low.
Shooting Modes
It's not all bad news in low light, though, as I found when I moved out of Intelligent Auto mode and started start playing with some of the FP8's scene shooting modes.
The FP8 has rather more shooting modes than you could shake a stick at — in fact, I wouldn't be surprised if there was a specific mode for taking photos of someone shaking a stick.
Night scenery
Lacking a party, two babies, snow, or a pet, I started out with what I had available — "Night Scenery". The Night Scenery mode assumes you're using a tripod, or at least resting the camera on something, and keeps the ISO down to minimise noise, while extending the shutter speed. This photo is of the A4 Portway in Bristol, looking out toward the Clifton Suspension Bridge. It's come pretty much straight out of the camera.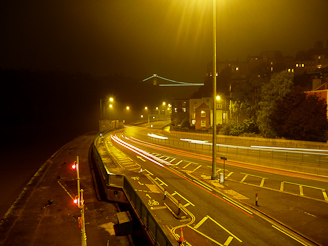 I was impressed at the combination of sharpness and lack of noise. Again, click through for the full-res image.
The camera's two-second timer mode comes in handy for night shots — just enough time to get your hands off and leave the camera to settle down before it shoots. The two-second mode is in addition to the standard ten-second mode for self-portraits.
Panorama Assist
Next I tried Panorama Assist. The FP8 can't create panoramas in camera, but Panorama Assist gives you the best chance of taking photos that will stitch together in the camera's supplied software when you get back home.
Panorama Assist gives you a choice of how you want to shoot your scene — left-to-right, right-to-left, top-to-bottom, or bottom-to-top. It then locks the white balance and exposure settings for the duration of your shooting, and gives you a handy reference for each shot. One edge of your last shot is overlayed on the viewfinder for your next shot, so you can accurately line up and overlap each photo of the panorama.
Using Panorama Assist to take three shots of the Clifton Suspension Bridge, I used the Mac software that came with the camera (PC version also supplied) to stitch them together. It did a one-click job of auto-stitching the shots together into this panorama of the bridge, with no obvious artefacts.

Film Grain
There are a few "artistic" modes, too. While I'd rather capture a standard shot with the camera and post-process to get my effects, I did at least have some fun playing with the Film Grain mode. It won't instantly turn you into a Cartier-Bresson, but it could be good for someone who wants to do a bit of playing without dragging out image editing software.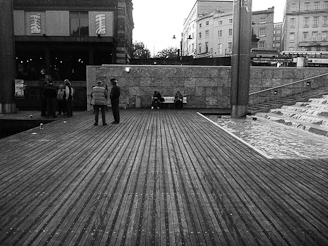 Features and Interface
In use, the camera is friendly, with its limited number of buttons intelligently laid out and fairly intuitive in use.
There's a single button, near the shutter button, to invoke Intelligent Auto mode, meaning that you can be playing with the settings to your heart's content, and still quickly drop back into full auto.
You can also pre-select a particular scene mode to make "your" scene mode, giving quick access without digging through the menus.
In "Normal Picture" mode, you get quite a lot of control of the camera features, shooting mode, focus mode, white balance, ISO, etc. In this mode the four "joystick" buttons give you quick access to flash control, exposure compensation (up to +/-2EV), exposure bracketing (nice to see on a compact), self-timer settings and macro mode.
Putting the exposure compensation and flash override on such easy access buttons is a smart move; these are the settings you end up using most often.
In "Intelligent auto" mode, the joystick buttons give you quick access to the AF tracking facility, allowing you to lock onto moving objects quickly and easily.
I like the "quick menu" button, too — it sits in the bottom right-hand corner of the button cluster, and accesses a host of settings, depending on the mode you're in. It does just what it claims; it's quick to use, and the menu it brings up is well laid out, with the features in a sensible order.
The way the FP8 remembers its settings seems thoughtfully designed, too. If you force the flash off in Normal Picture mode, it associates that choice with that setting — you can drop back into Intelligent Auto mode at the touch of the iA button, to take a picture in full auto with the flash on, then drop back into Normal exactly as you were before, with the flash off.
The other control settings are mode-sensitive too, and this works well, allowing you to build up a couple of different sets of settings and switch between them with ease.
Video
Increasingly common on compacts is the ability to shoot HD video, and the FP8 is no exception. It'll shoot 720p at 30fps. I've not explored this much, but I've shot a couple of quick videos and the quality is good.
Panasonic Lumix DMC-FP8 Test from Matt Gibson on Vimeo.
Image stabilisation works in video mode, too, which is almost an essential feature on a handheld HD camera — they tend to pick up every little tremor.
Zooming while shooting works fine, although you don't get to choose the speed of zoom. I haven't noticed any focusing problems, either.
Conclusion
This is a camera capable of taking excellent photos. Within four days of owning the camera, this shot of the Clifton Suspension Bridge, taking during my morning jog, had ended up on the front page of Flickr's Explore, which is a rare accolade for a photo. While Explore isn't based on technical image quality, a picture has to get through some tough pictorial competition, often from high-end DSLR shots, to make the grade.
The point here, though, is that I would never take my SLR out with me for a jog. The FP8 is small and light enough to shove in a pocket and forget about until I see a nice view. In the words of Chase Jarvis, the best camera is the one you have with you.
All in all, the Lumix DMC-FP8 is a good camera in a small, elegant package, available for below £200 in the UK. I have few reservations in recommending it. If you're looking for an exceptionally portable compact that can produce great photos with little fuss, especially if you shoot more outdoors than in, then put this camera on your shortlist.
Pros and Cons
Pros
Crisp Leica-branded lens
Small size with folding optics
Very fast startup and focusing
Fine results in good light
Exposure bracketing (+/-1EV)
Good image stabilisation
Excellent colour reproduction
Easy to use, with well-thought out modes and menus
HD video
Cons
No lens cover makes it less pocketable
Mediocre, noisy low-light performance
No RAW shooting mode
---
All photographs in this post are copyright © Matt Gibson, 2009. All rights reserved. Please contact me if you'd like to use any; I won't necessarily say "no"!