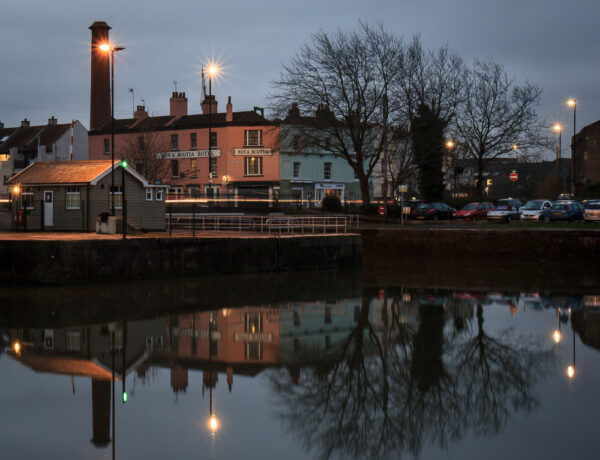 You may have noticed that when I mentioned wanting to do an Artist Date for every week in 2013, it was already the end of the first week of the year.
I toyed with the idea of making my New Year's Day 10K walk my first Artist Date of the year, as it sort-of qualifies: a couple of hours, out on my own, doing something positive and inspirational.
But it wasn't deliberately done as an Artist Date. So on balance, I'd say it doesn't count.
Instead, yesterday I got up early and went out for a mini photo-walk down the harbourside.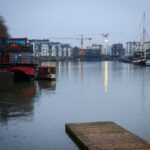 I used to be on the harbour taking early-morning photos all the time, back when I commuted to work on the ferry. It was one of the highlights of my day, in fact, and one of the reasons I survived my relatively uninspiring day job as long as I did.
Sadly, though, the commuter ferry service died off a couple of years back, when Bristol City Council cut the subsidy, and Bristol lost one of the finest ways of getting to work I'd ever experienced. (Look! There's me, with a line about it in the newspaper story! And as a bonus, I'm 27 instead of 37!)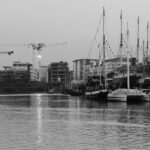 Since then, while I've still been out snapping around the harbourside, it's rarely been in the early morning. So I figured an Artist Date to get back out there, first thing, no matter what the weather, might be good.
It wasn't the best weather for taking photos, a bit overcast and uninspiring. It was still good to get out in the early morning quiet and cold, though, and at least it wasn't raining.
I took the 60D, a couple of different lenses, and, unusually, a tripod (might have to do a review of my new bag, the AmazonBasics Backpack, which was handy for carrying the tripod along with the rest of the gear, at some point…)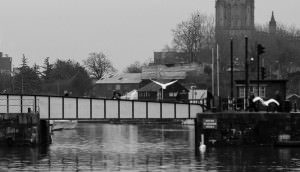 I only got as far as the Lloyds Amphitheatre in the end, as I got distracted from walking by trying to take photos of swans taking off over Prince Street Bridge. As you'd imagine, this can mean a lot of time just standing around and hoping, what with swans not being terribly obliging with their timing.
Also, the lenses I own aren't that great for taking wildlife photos from a distance. The best quality lenses I own are all quite short focal lengths, whereas the longer lenses I own (as I don't want to spend thousands) are all a bit slow, and not that great quality, so don't lend themselves to dark winter mornings.
But it didn't really matter. The quality of my photography wasn't the really important part of the excursion. The important part was getting out into the world when I normally wouldn't, and thinking creative thoughts.
Just watching the few swans that did take off was lovely. I'm always impressed by this triumph of determination over physics, as they just about manage to drag their heavy bodies out of the water and into the air in time to clear various harbourside structures…
So, that was my first Artist Date of 2013. A good start, I think. Later I'll be re-reading that section of The Artist's Way to give myself some more ideas for date number two…