My first blog entry since July. I have, truth be told, been a little exhausted recently. Still, some traditions are worth keeping up, so here's my favourite photo from each month of 2015! Click through to see them on Flickr.
January
Another Planet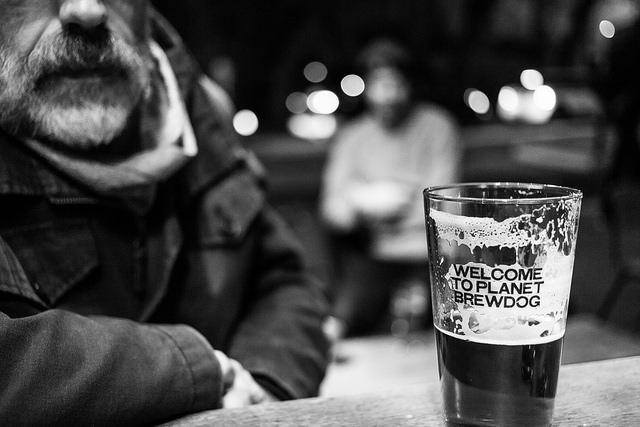 Drinks with my friend Paul at Brewdog, by Bristol Bridge. Paul and I did film developing and printing courses together at the Folk House's shiny new dark room this year. We're hoping do do a little more in January, too.
---
February
Fogbound

Artist Fujiko Nakaya covers Pero's Bridge in fog as part of IBT15.
---
March
Nightstand Buddhist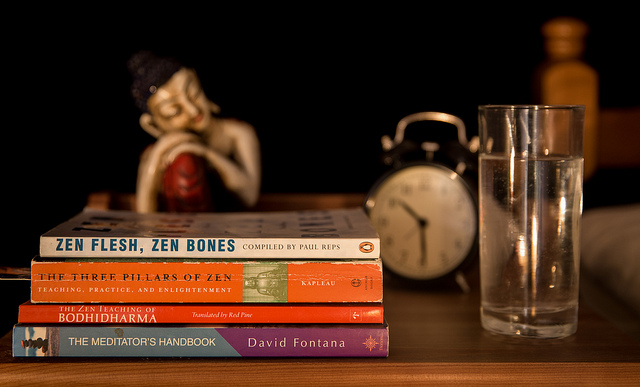 A little peek into the more wholesome parts of my home life. There's a "behind the scenes" shot of this one on my Tumblr.
---
April
Shadow Study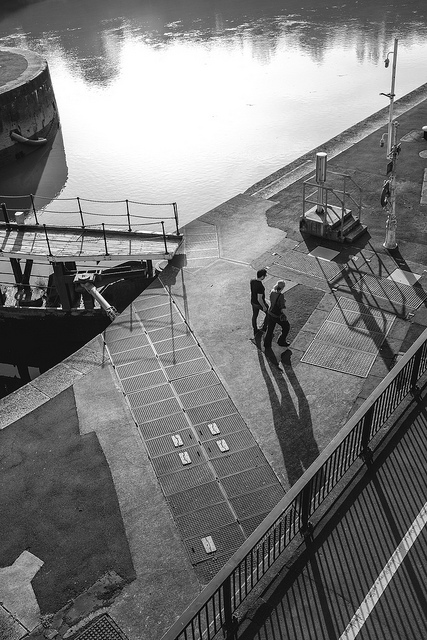 One of my big changes in photography this year was the introduction of the Fujifilm X100T to my kit. Being so small and light, I've been taking it virtually everywhere with me, when I wouldn't have normally bothered carrying the 6D. Shots like this sometimes just present themselves in front of you, and now I normally have a decent camera to snap them with.
---
May
Window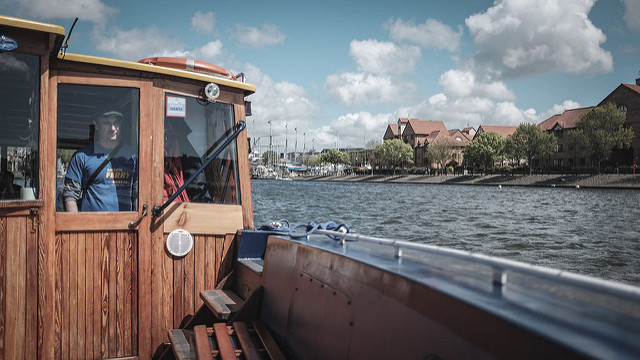 This is one of the earliest X100T shots that I felt really happy with.
---
June
Zen Mind, Beginner's Mind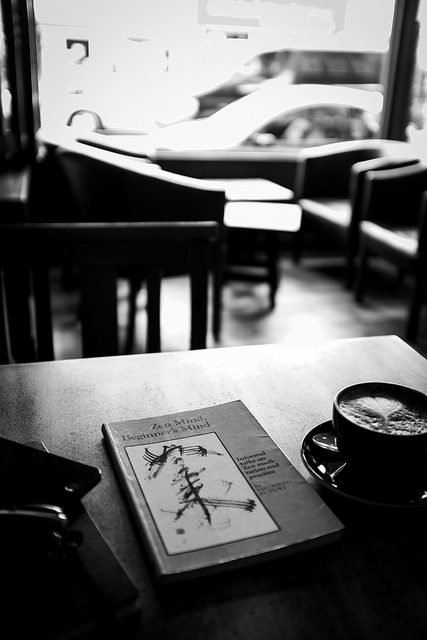 I've been admiring Patrick La Roque's photography since I first came across him as one of the proponents of the Fujifilm X series. Here I tried to channel a little of his style to a simple photo of my table in Coffee #1 on North Street.
---
July
Balance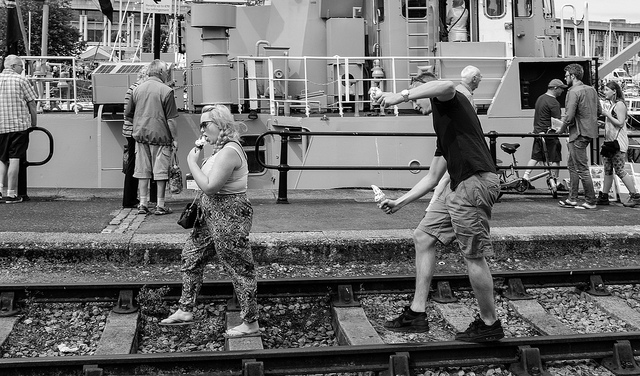 I'm not completely happy with this result, but I am happy that I went out to Bristol's Harbour Festival to practice the zone focusing method, and came back with something that looks like street photography, at least…
---
August
Phone Snapper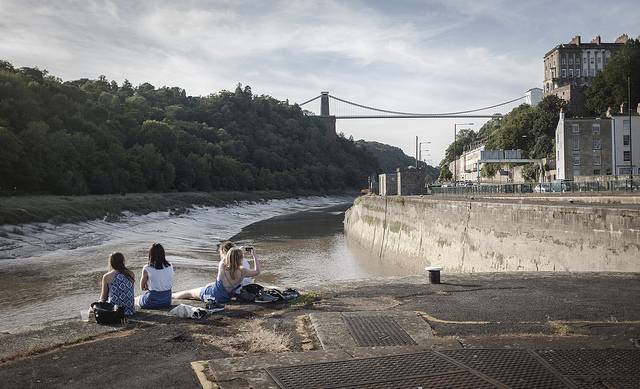 Another X100T shot. This one is a group gathered to watch an evening launch at this year's Balloon Fiesta. (I didn't snap may great pictures of the balloons this year, but I liked both this photo and another that I took on the walk up to Ashton Court for a dawn mass ascent.)
---
September
Hipster Moustache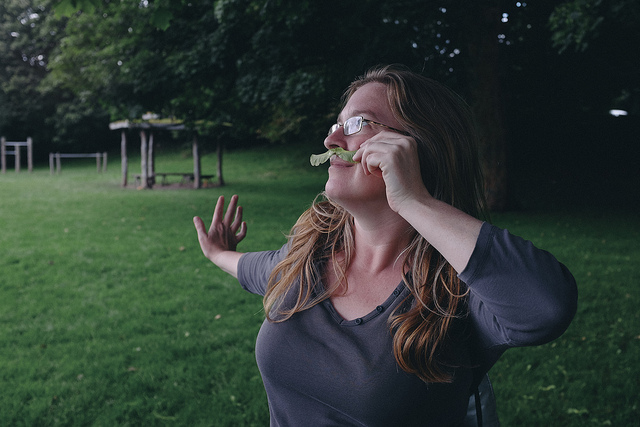 My friend Sarah usually shoots film, so I tried to give this picture of her something of a filmic quality, though it was yet another X100T shot.
---
October
No Nonsense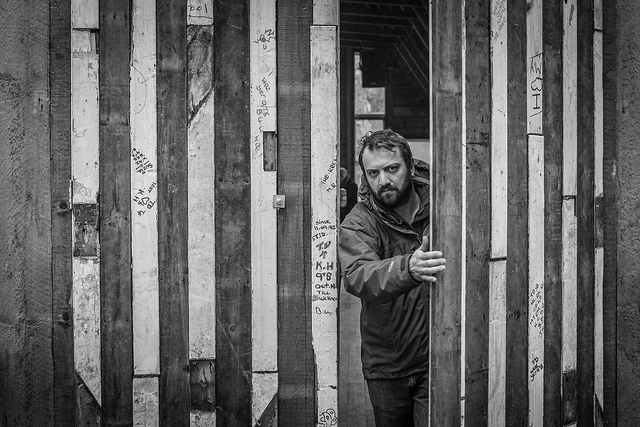 I loved the texture in this door, and the event I was at — a preview of the space for Theaster Gates' Sanctum—gave me an opportunity to lurk in wait for someone to walk through it. He doesn't look that happy to be photographed, but I think that makes the photo.
---
November
Tall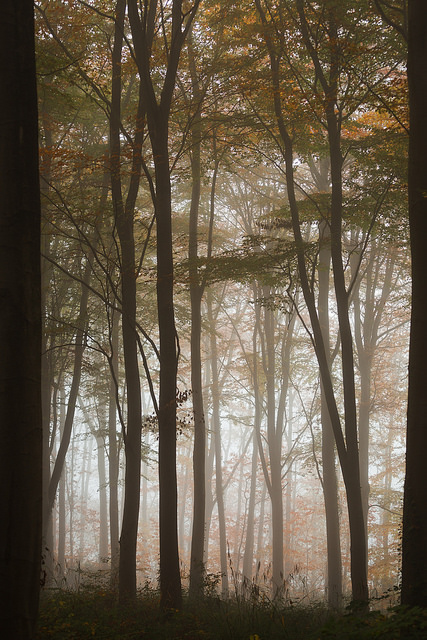 Wanting to get back to the DSLR for a while, and inspired by Russ Barnes' article on woodland photography, I dragged myself out of bed very early and headed up to Leigh Woods on a misty morning to try my luck. I was so happy with the results that another photo from this series now takes pride of place on my living room wall.
---
December
Lunchtime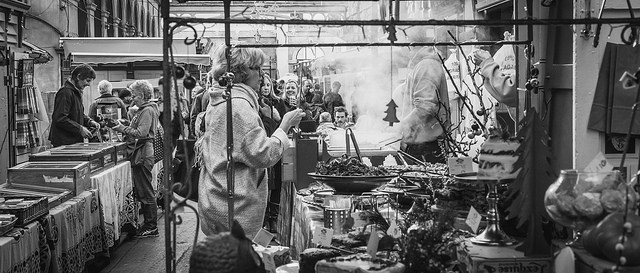 Slim pickings in December (though I also liked this shot of some mud!) but at least I put some of my continuing self-education into practice. Stu Maschwitz's great Lightroom Iron Chef talk has a ton of interesting tips in it. One of them is to give a photograph a "feature film" feel by stealing one of the legendary aspect ratios of the medium. Here, St. Nicholas Market is cropped at 2.35:1, the Panavision 35mm anamorphic ratio that a lot of great films have been shot in.
This photo looks really good big, so you can peek into the detail a bit more. "Bigger is better" is a common theme with my photography this year!
Happy New Year!
---