100/365
My hundredth post! That came around quickly. Here's a family heirloom, with a couple of bonus shots and the obituary — from the British Medical Journal — of the man whose microscope this was: Doctor Stewart Lockie, my great-great-uncle.
Thanks to Margaret, stepmum and family historian!
The microscope, according to an engraving on the barrel, was made by G Oberhaeuser et E Hartnack, Place Dauphine, 21, Paris.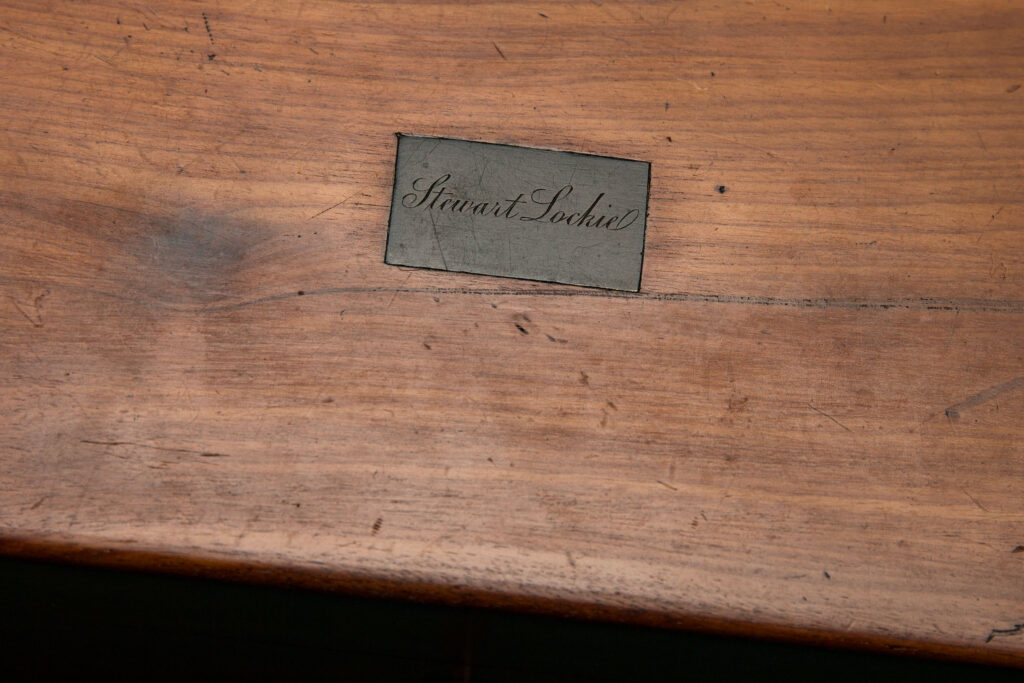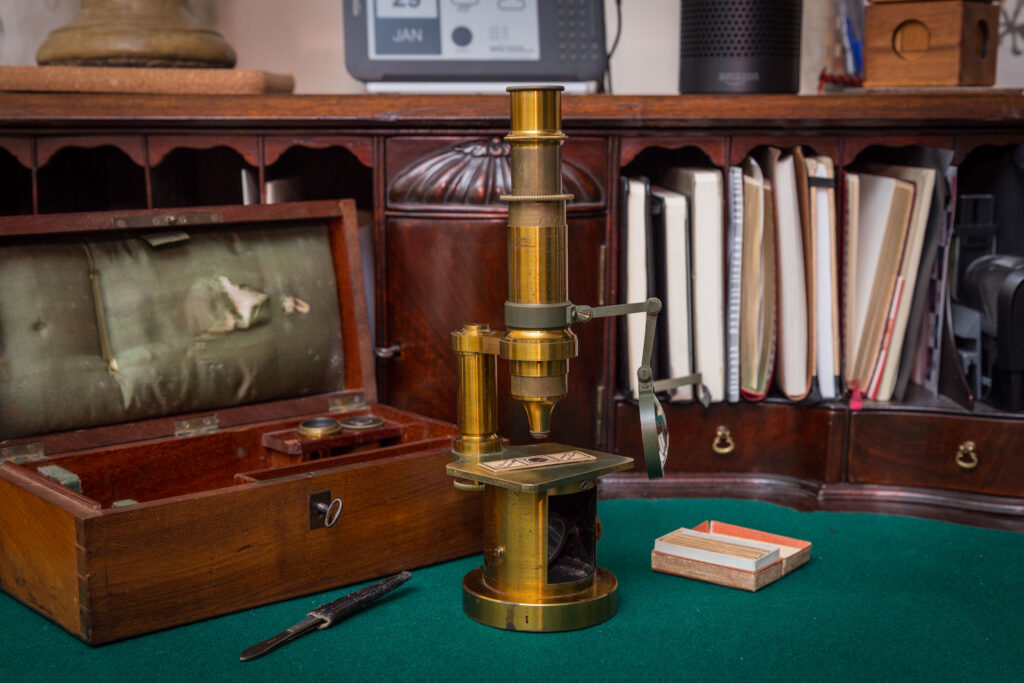 [Easier-to-read text version follows the obit images!]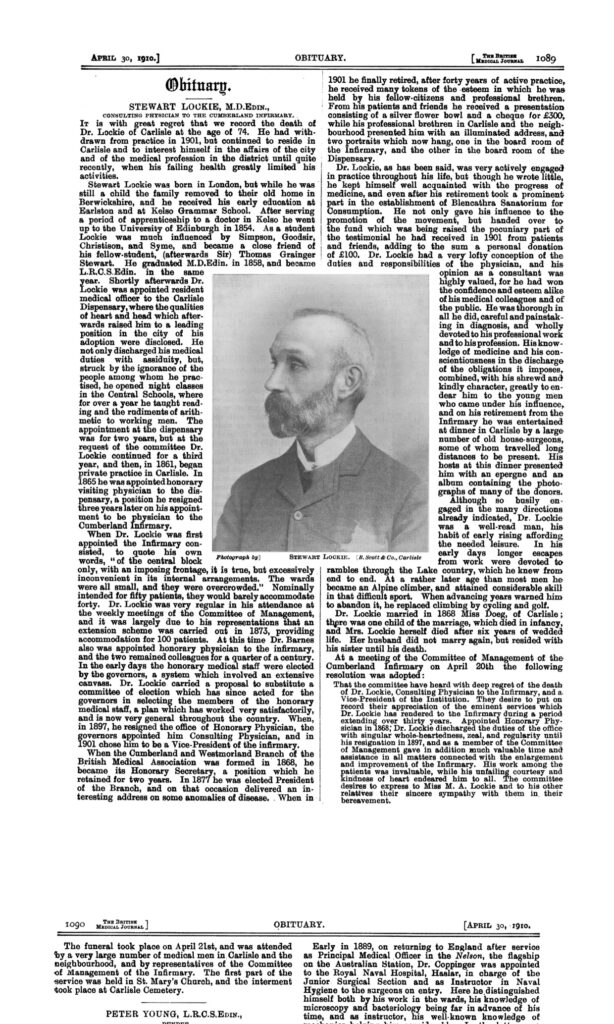 Text version (there may be some typos; I didn't have time for a proof-read after all that typing…)
Obituary
Stewart Lockie, M.D.Edin.,
Consulting Physician to the Cumberland Infirmary
It is with great regret that we record the death of D. Lockie of Carlisle at the age of 74. He had withdrawn from practice in 1901, but continued to reside in Carlisle and to interest himself in the affairs of the city and of the medical profession in the district until quite recently, when his failing health greatly limited his activities.
Stewart Lockie was born in London, but while he was still a child the family removed to their old home in Berwickshire, and he received his early education at Earlston and at Kelso Grammar School. After serving a period of apprenticeship to a doctor in Kelso he went up to the University of Edinburgh in 1854. As a student Lockie was much influenced by Simpson, Goodsir, Christison, and Syme, and became a close friend of his fellow-student, (afterwards Sir) Thomas Grainger Stewart. He graduated M.D.Edin. in 1858, and became L.R.C.S.Edin. in the same year. Shortly afterwards Dr. Lockie was appointed resident medical officer to the Carlisle Dispensary, where the qualities of heart and head which afterwards raised him to a leading position in the city of his adoption were disclosed. He not only discharged his medical duties with assiduity, but, struck by the ignorance of the people among whom he practised, he opened night classes in the Central Schools, where for over a year he taught reading and the rudiments of arithmetic to working men. The appointment at the dispensary was for two years, but at the request of the committee Dr. Lockie continued for a third year, and then, in 1861, began private practice in Carlisle. In 1865 he was appointed honorary visiting physician to the dispensary, a position he resigned three years later on his appointment to be physician to the Cumberland Infirmary.
When Dr. Lockie was first appointed the Infirmary consisted, to quote his own words, "of the central block only, with an imposing frontage, it is true, but excessively inconvenient in its internal arrangements. The wards were all small, and they were overcrowded." Nominally intended for fifty patients, they would barely accommodate forty. Dr. Lockie was very regular in his attendance at the weekly meetings of the Committee of Management, and it was largely due to his representations that an extension scheme was carried out in 1873, providing accommodation for 100 patients. At this time Dr. Barnes also was appointed honorary physician to the infirmary, and the two remained colleagues for a quarter of a century. In the early days the honorary medical staff were elected by the governors, a system which involved an extensive canvass. Dr. Lockie carried a proposal to substitute a committee of election which has since acted for the governors in selecting the members of the honorary medical staff, a plan which has worked very satisfactorily, and is now very general throughout the contry. When, in 1897, he resigned the office of Honorary Physician, the governors appointed him Consulting Physician, and in 1901 chose him to be a Vice-President of the infirmary.
When the Cumberland and Westmorland Branch of the British Medical Association was formed in 1868, he became its Honorary Secretary, a position which he retained for two years. In 1877 he was elected President of the Branch, and on that occasion delivered an interesting address on some anomalies of disease. When in 1901 he finally retired, after forty years of active practice, he received many tokens of the esteem in which he was held by his fellow-citizens and professional brethren. From his patients and friends he received a presentation consisting of a silver flower bowl and a cheque for £300, while his professional brethren in Carlisle and the neighbourhood presented him with an illuminated address, and two portraits which now hang, one in the board room of the infirmary, and the other in the board room of the Dispensary.
Dr. Lockie, as has been said, was very actively engaged in practice throughout his life, but though he wrote little, he kept himself well acquainted with the progress of medicine, and even after his retirement took a prominent part in the establishment of Bencathra Sanatorium for Consumption. He not only gave his influence to the promotion of the movement, but handed over to the fund which was being raised the pecuniary part of the testimonial he had received in 1901 from patients and friends, adding to the sum a personal donation of £100. Dr. Lockie had a very lofty conception of the duties and responsibilities of the physician, and his opinion as a consultant was highly valued, for he had won the confidence and esteem alike of his medical colleagues and of the public. He was thorough in all he did, careful and painstaking in diagnosis, and wholly devoted to his professional work and to his profession. His knowledge of medicine and his conscientiousness in the discharge of the obligations it imposes, combined, with his shrewd and kindly character, greatly to endear him to the young men who came under his influence, and on his retirement from the Infirmary he was entertained at dinner in Carlisle by a large number of old house-surgeons, some of whom travelled long distances to be present. His hosts at this dinner presented him with an epergne and an album containing the photographs of many of the donors.
Although so busily engaged in the many directions already indicated, Dr. Lockie was a well-read man, his habit of early rising affording him the needed leisure. In his early days longer escapes from work were devoted to rambles through the Lake Country, which he knew from end to end. At a rather later age than most men he became an Alpine climber, and attained considerable skill in that difficult sport. When advancing years warned him to abandon it, he replaced climbing by cycling and golf.
Dr. Lockie married in 1868 Miss Doeg, of Carlisle; there was one child of the marriage, which died in infancy, and Mrs. Lockie herself died after six years of wedded life. Her husband did not marry again, but resided with his sister until his death.
At a meeting of the Committee of Management of the Cumberland Infirmary on April 20th the following resolution was adopted:
That the committee have heard with deep regret of the death of Dr. Lockie, Consulting Physician to the Infirmary, and a Vice-President of the Institution. They desire to put on record their appreciation of the eminent services which Dr. Lockie has rendered to the infirmary during a period extending over thirty years. Appointed Honorary Physician in 1868; Dr. Lockie discharged the duties of the office with singular whole-heartedness, zeal, and regularity until his resignation in 1897, and as a member of the Committee of Management gave in addition much valuable time and assistance in all matters connected with the enlargement and improvement of the Infirmary. His work among the patients was invaluable, while his unfailing courtesy and kindness of heart endeared him to all. The committee desires to express to Miss M. A. Lockie and to his other relatives their sincere sympathy with them in their bereavement.
The funeral took place on April 21st, and was attended by a very large number of medical men in Carlisle and the neighbourhood, and by representatives of the Committee of Management of the Infirmary. The first part of the service was held in St. Mary's Church, and the interment took place at Carlisle Cemetery.