I ordered a replacement WiFi router the other day, from eBuyer. Earlier on this week I got a card through the door saying that Parcelforce had tried to deliver it.
On the Parcelforce website, I found that I could re-arrange delivery to a local Post Office, and pick it up from there. So, I did that, arranging to pick the parcel up from the local Cotham Hill Post Office this morning.
And it was at the Post Office that things started to go downhill. First off, I gave them the card, and they disclaimed all knowledge of me. Then I showed them the printed bit of the website confirmation, and they had an actual look for my parcel. They didn't find it. Then they looked on the computer, and the computer told them it was there. Then they looked again, and dragged out a big box, which was apparently my parcel.
Okay. It looked big for a wireless router, but eBuyer sometimes send the smallest of things in larger boxes. It looked a bit heavy, too, though. "Are you sure that's the one?" I asked through the glass.
"Yes," said the lady, and read me out a postcode that wasn't mine.
"No," I said, "That's not my postcode."
"Royal York Crescent?" she asked.
"No," I said.
"Oh," she said. "Well, it's got your name on the label here." And she read out my postcode from a different label.
"How heavy is that?" I asked.
She hefted the parcel. "Three or four kilos?" Hmm. A bit heavy for a router, even a good quality one. Even a good quality one which came with a free computer. "Look," she said, "Do you want it, or not? It's got your name on it?"
"But I don't think it's mine."
"Well, you'll have to ask Parcelforce."
Oh, the joys of the separation of the Post Office into little bits that never bloody take responsibility for each other.
So, I take delivery of this parcel, which, when I get it home, appears to be addressed to a Frenchman, living around the corner, and seems to have come from France. I open it up. Inside is… Something which is definitely not a wireless router.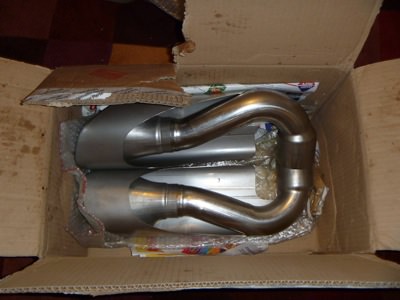 I suppose the "Genuine Porche Parts" tape that it was sealed with should have been a bit of a clue. It certainly looked like a bit of a car. I found a part number on one of this matched pair of hefty steel pipes, and looked it up on the internet.
The first hit was a Polish eBay auction, which was selling a pair of things that looked exactly the same.
Yes, definitely not a wireless router. In fact, a matched pair of Porche Cayenne tailpipes. The auction had reached €360, more than £300. So, Parcelforce and the Post Office had given me someone else's goods, and they were worth six times the value of the little thing I was expecting.
If I was a bad person, this might have ended right there. Auction them on eBay, order another router, and I'd have a router and £250 change. Nice work if you can get it.
I phoned Parcelforce. They told me my parcel had been delivered to Cotham Hill Post Office. I told them what had happened. They looked up the French parcel's tracking number. "That's still at Bristol depot." I doubted it. I reckon that's was where my parcel was. "Yes, you're probably right. I'll put you through to them."
I got through to the Bristol depot. The person at head office hadn't bothered explaining why he'd put me through, so I had to go through the story again, which took about five minutes. "Right," said the woman on the phone. "I'll go and look for that parcel, and I'll call you back." I read out my phone number to her, she read it back to make sure she'd definitely got it right. "I'll call you right back," she reassured me.
That was at about 11am this morning. This afternoon, I headed out to lunch with my friend Tara, and on the way back, I called in at Royal York Cresent. There was nobody at the house on the parcel's label. I went and had a coffee in Boston Tea Party around the corner, and as I was drinking it, a Porche Cayenne drove past. "There can't be too many of those around here," I thought to myself.
Still nobody there, though, when I went back. So I headed back to my car, got in, and was just about to drive off when that Porche Cayenne pulled up outside the garage belonging to the house I'd just been to.
"Excuse me!" I called from down the street. Not much response, but then it turned out "Excusez-moi!" might have been a better approach, because yes, it was indeed a French family, and the older man of the party immediately recognised the Porche Cayenne exhaust pipes I had in the box I was carrying. "Aaaaah!"
Communication was slightly problematic; even with two people with matching native languages it's not an easy explanation. Still, it transpired that Monsieur Boulais did not have my wireless router, sadly. But those were definitely his tailpipes.
I got home, and called the Bristol Depot back at about half past three. They were shut. They'd been shut since half past twelve.
I phoned up Parcelforce's main number again, navigating through the irritating menu system until I found a button to push if you wanted to make a complaint. Apparently they were experiencing a high volume of calls, which doesn't exactly surprise me.
Finally I got through. A northern woman with no interest in anybody else's problems took my call. "No, they're closed now," she said.
"I know that, I've just phoned them. Well, what can you do?"
"I can give you their number, so you can phone them first thing on Monday morning."
Sigh. "Well, how do I make a complaint?"
"I can give you the address to write to."
Yes, that figures. You wouldn't want to make it easy for your customers to complain, would you, Parcelforce, or presumably you'd have to employ even more people who were shit at phoning customers back or listening to anything they're told… No, instead you have a complaints option on the phone system that puts you through to someone who tells you to write to a certain PO Box number. That's far more effective customer service.
So, here I am, using my old wireless router still, because my shiny new router is in Parcelforce's Bristol depot. Maybe. And possibly now addressed to a Frenchman. Even though I've paid money to have it delivered to a local Post Office and gone out of my way to collect it. Personally, I seem to be a far more effective courier than Parcelforce, what with being able to read labels, and doing Saturday deliveries directly to the hands of the intended recipient. I'll even handle complaints by email, or on the phone.
So, with "my" parcel delivered to a slightly bemused, but very happy Monsieur Boulais, I wonder how much confusion it's going to cause when I phone up the Bristol depot on Monday morning and see if I can get them to find my parcel. I wonder if I'll ever get my delivery.
In summary, Parcelforce, you suck. You suck at everything, from delivery to security to communication to complaint handling. You fail to care on every level, you fail to call people back, and you are intensely indifferent to your customers and their problems. I will be avoiding you wherever possible in future. I'm so annoyed right now that I'm tempted to try starting a multi-million pound mail-order delivery firm simply so I can avoid giving you my delivery contract.
And that is, so far, my story of trying to get something delivered to me by Parcelforce. If you've tripped over this blog entry trying to find out what Parcelforce's customer service is like, I hope very much that you read it in time not to touch them with a barge-pole.