Artist date #3 was an auction. A friend had told me about a Dreweatts, just south of the river from me, who often had interesting items on sale — I'd been looking for a broken old-school radio to use as a project box for something.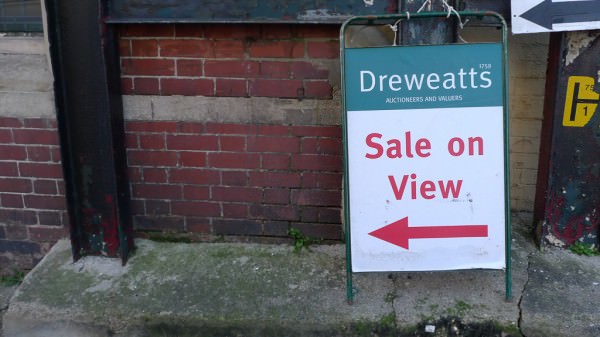 I'd never been to an auction. A good artist date, I figured. As it turned out, the next sale was a commercial sale, rather than fine art. Up for grabs would be all sorts of weird lots. And I mean weird. A big chunk of it was an airport selling off lost and confiscated goods — several lots were things like "Airport Unclaimed Property: Ten suitcases and holdalls of assorted clothing and other items". So, if you really wanted, you could take a chance on buying a bunch of people's holiday clothes. Strange.
Wandering around the huge open warehouse, stacked with aisles of floor-to-ceiling items, I tried to figure out where it had all come from.
I'm guessing the "seized goods" section might have come from people trying to smuggle stuff to sell in their personal luggage — there were a bunch of original Kindle Fires (only sold on the US market) still in their original Amazon packaging, right down to the cellophane. Plus gate seizures, I think. There were stacks of pocket knives, and lots of liquids over 100ml.
Individual lots were sometimes strange mixes. I'm guessing the lot of walking sticks, crutches, artist's folio cases and postal tubes was simply the "long thin shite" section of airport lost luggage, scooped off a shelf and into a big bin for clearance.
Aside from the airport stuff, there were lots of tools. There were old handyman's toolboxes, with drill bits in old cigarette tins, old wooden planes and rusty saws. There were big newer things, pipe benders and air compressors and stuff. In this section I also saw a big homemade plywood board of some kind, with dreadlocks of fibre optic cable trailing from a light box to individual holes in the board. I don't know what it was, and I never will, as it was part of a mixed lot that was way too big for me to get in the Mini even if I had wanted to take a chance on it…
There was some truly odd stuff dotted about here and there. The pair of pristine silk basques. The garden fountain with cherubs. The model fairground merry-go-rounds. The remote control electronic candles (I kid you not.) The collection of snow globes (each with more liquid than 100ml, I wondered?) The collection of incredibly old, still-sealed beer bottles, encrusted in dust. The marine fuel gauges. The defibrillators!
I felt like I had to bid on something, in the end. I decided not to risk my own money, as such, and so I bid on behalf of my company for one of the US Kindle Fires. I knew they wouldn't be much good to anyone without a US Amazon Account (you can't buy stuff from the original Fire, which was US-only, without a verified US payment method.) But it'd be fine for me to test my own apps on.
As I'm handed my bidding "paddle" (really just a number printed out big on some A4 paper) I'm warned that the prices you pay in the end can be higher than those you hear in the auction room. The prices called out by the auctioneer don't include commission or VAT. All told, you can end up paying more than 40% more than the "hammer price" if you win. As a newbie, I'm given a few other words of advice, and wished good luck…
I watch the auction for a half hour to get the hang of things. Everyone's crowded together in the big, cold warehouse, crammed into spaces between the lots, watching the auctioneer calling from his stage, taking bids from the room and from the internet on a laptop on his desk. His gavel is impressively loud and final-sounding when something is won.
It's mostly men, though there are some women, about a hundred people gathered to bid. Some have scored seats at a lot of tables and chairs near the front. Literally a "lot"; they're up for auction, being sold out from underneath their sitters.
By the time the Kindles roll around, I've had enough time to get the hang of things. The first bid needs an obvious gesture from the bidder to catch the attention of the auctioneer. After that he'll keep an eye out, and you can be more subtle. If I win, I must remember to hold my paddle up so he can write down the big number.
In fact, by the time the Kindles roll round, I've had enough time to wander down North Street to the nearby Tobacco Factory and have lunch. They auction in numerical order, generally averaging a hundred lots an hour. There's a temporary jump in the numbers at 1pm when they go outside and auction the cars — everything from a forklift to a sadly-neglected Ferrari is on display in the car park.
The Kindles start around lot number 360, so I've plenty of time to try out watching the auction remotely on the internet from my lunch table. It's an inevitable feature in this day and age, but it's nothing like huddling in your jacket in the chill air of the warehouse, nodding at the auctioneer, or maybe shaking your head in defeat as someone finally outbids you.
I head back after lunch, and, in the end, I win the third Kindle Fire along, letting other people take the first couple to get an idea of what prices are being paid. I let someone else put the first bid in at £40, then try to look like I've done this before as I jump in, finally winning against a couple of people in the room and someone on the internet, at £65. I remember to hold up my paddle.
There's £13 "buyer's premium" added to the bid, then VAT added on both that and the original £65, so I settle up at £93.60 in the end, waiting until the details of my win are transmitted into the lobby area, where the cashiers are waiting to take people's money.
Then I'm escorted to my haul by a friendly member of staff, happy to see someone new at the auction. The auction carries on around us as he retrieves my shiny new Kindle Fire from a bookcase full of all sorts of different e‑readers…
And that was my first auction! A fab artist's date, even though it took a lot more than two hours, all told. I must be careful not to let them eat quite so much into my working days in future.
On the plus side, the Fire worked just as I thought it would. Not much use without a US payment method linked to your account — you can't buy media. But you do get access to all your existing Kindle books (even if bought from a UK account), and it's definitely good enough for testing apps. I got Get Running for Android working just fine on it…