I've often seen signs for the Pervasive Media Studio around the Watershed. And I walked past the back door every working day for a few years. But I've never really known what it is. So, when I saw they were having an open day as part of Digital Bristol Week, I signed up for a tour.
And I saw some amazing things. Down the corridor behind the Watershed bar is a surprisingly large workspace, light and airy, but rammed full of interesting people doing interesting things. In the Studio's own words:
We are a multi-disciplinary lab exploring and producing pervasive media content, applications and services. We work within a brilliant community of artists, creative companies, technologists and academics, including UWE's Digital Cultures Research Centre.
To give you a flavour of what that actually means, here are a few of the things our tour guide, Verity, took us to see:
---
We start our tour talking to Richard of Calvium. Calvium are right up my street — app developers interacting with the real world as much as possible. They love working with people who don't know much about app development themselves to make their ideas reality. Their AppFurnace platform allows for rapid development of mobile apps.
I've just downloaded the Fortunes app that they developed with M‑Shed, an exploratory game based on a 19th Century map of Bristol. Being GPS-based, I'll need to go to the M‑Shed to start playing, so I've not tried it yet…
---
The Alpha Sphere, demonstrated here by Felix, is is a brand new digital music instrument. Each pad is programmable (and the programming interface wouldn't look out of place in a film like Minority Report or The Matrix) and can set off individual samples, or entire loops.
---
The Theatre Jukebox is, like with many things in the Studio, an experiment with mixing digital experience with the real world. Pick a postcard, place it on the desk in front of you. A projection accompanied by a soundtrack extends the idea of the postcard out into your reality. A teacup becomes a storm in a teacup. A postcard of a record becomes a playing gramophone.
---
Just before the Jukebox, we're introduced by Constance to the Pervasive Media Cookbook, a practical guide to making your own pervasive media. With examples and advice derived from their outpouring of projects, this just makes me want to go and design something. I have no idea what, but something…
---
Then we're introduced to Michael Johnson. Michael designs spacecraft. I kid you not. When he's not in the Studio, you'll probably find him at NASA's JPL. The thin film spacecraft he's holding in the picture below is designed to be small and light enough to survive re-entry, and cheap enough to build and deploy in the thousands. With public-access open space exploration in mind, he's also experimenting with Arduino-toting spacecraft where the public can deploy their own programs to experiment in space themselves. Watch out for the launch of Pocket Spacecraft!
---
When we first met him, Michael was working with Victoria Forrest, a designer with a background in print. That's one of the joys of the Studio; the interdisciplinary nature means that a space engineer, say, can easily get the advice of a book designer when he's looking to engage with potential backers.
We talk to Victoria about the boundaries between digital publishing and the analogue world, and the potential for e‑books to become a vastly better experience.
---
Finally, we move on to Tim from matter 2 media, who gives us our last demo. Tim's trying to make use of the many screens we now often carry around with us, making new media that interacts across multiple devices. In this case, a company of meerkats interact with each other, comparing, er, beer mats, and passing them from one screen to the next…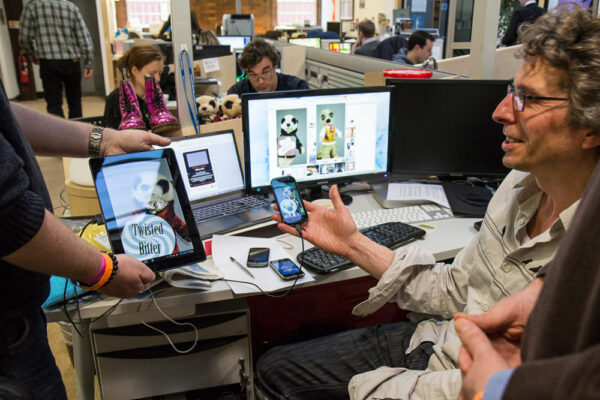 ---
Well. What can I say? Mind. Blown. Definitely my favourite artist date of the year so far. I now want to write about six different apps, make an art installation and program an Arduino for space. I also want to work in the Pervasive Media Studio one day, though I have the lingering impression that I might not quite be smart or hardworking enough…