As a geek, I used to struggle with the problem of charging multiple USB devices. Then I became a mobile app developer, and the situation got about eight times worse. I've tried to make things tidier here and there, but I still have a plethora of multi-sockets and wall warts around the place, and they're a serious source of clutter.
So, when RAVPower asked if they could send me their four-port, high-power USB charger to review, I figured it would be right up my street.
It's hard to find a decent multi-port USB charger. Many of the cheaper ones have low charging currents, leading to slow charging, especially for tablets. And the charging rate is often buried somewhere in the technical specifications or not even advertised at all. Plus they're usually "wall warts", meaning that you need a bulky extension cable and socket to get them anywhere useful if you're lacking a nearby socket.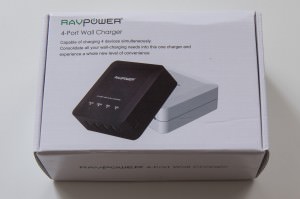 RAVPower clearly saw a hole in the market shaped like this little black puck of theirs. It's not ashamed of its current provision — rather than hiding it away in the small print, it's stamped on the box above each port. There are two 2.1‑amp ports and two 1‑amp ports, which is a reasonable set; just make sure you plug big, power-hungry things in to the sockets on the left.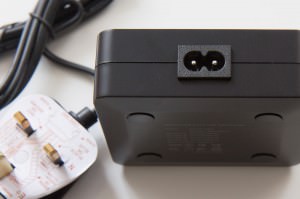 Rather than being a "wall wart", the charger comes with a mains cable for its standard IEC C7 mains connector. You know the one: if you're my age, you probably first saw them on portable tape decks, and they're still very popular. If you're a geek you've likely got five in a drawer somewhere.
This is great, because if you want to position the charger a distance from a socket, you can get a five-metre C7 cable from a variety of Amazon sellers for about a fiver. So rather than having an extension socket with four individual "wall wart" usb chargers taking up a mass of room, you can just have this neat little box.
Also, this charger works on anywhere from 100 to 240 volts, which means that if you're travelling you could, say, buy a C7 cable with a US or European plug on the other end and use it abroad with no problems.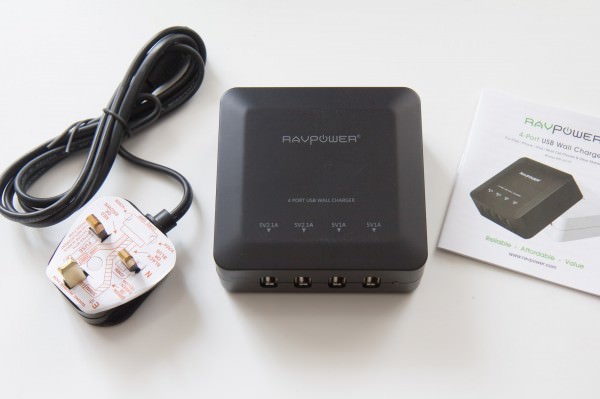 It's a compact plastic unit you can easily hold in a hand, and it weighs in at a light 150 grams. Four rubber feet do a good job of stopping it sliding around as long as you hold it down gently while you're plugging stuff in.
In looks it's a little reminiscent of the second generation Apple TV; it has pretty much the same footprint, though it's about a centimetre taller. The text on the top is pleasant-looking and clear, and it feels decently made. It's available in black or white.
It shares one small problem with many devices of this type: it has one of those blue "power on" LEDs that's excruciatingly bright. I mean, it might actually be able to give you a tan. This is bad for use in a bedroom, and you probably wouldn't want it in front of you on your desk, especially in the evenings. However, it's easy enough to tape over with black insulating tape, which is a fate that befalls all such annoying lights in my flat.
It will happily charge from all four ports at once. To check out its charging times, I simultaneously charged an original Kindle Fire from a 2.1A port, and an iPhone 5 from a 1A port, and they charged from flat within the manufacturers' specified charging times — four hours for the Fire, under two hours for the iPhone. The unit gets warm when charging, as you'd expect, but not hot.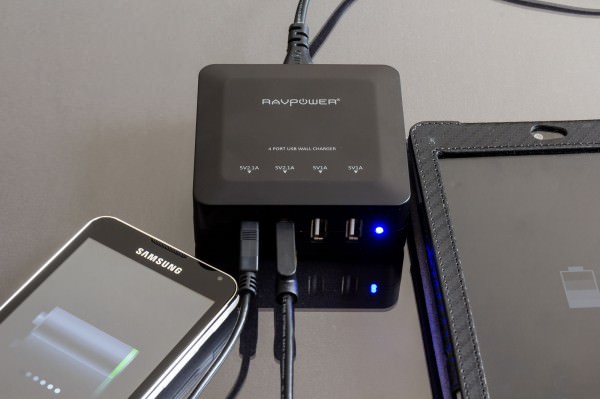 Currently priced at £12.99 on Amazon, this feels like a good quality gadget for the money, and I recommend it if you're looking to rationalise your charging.
Pros:
Good price
Not bad looking
Not a wall-wart
Exceedingly standard power cable
High charge current
Cons:
LED so bright you can almost feel the photons
Available from (affiliate links):
---
Disclosure: RAVPower sent me this charger for free to review. They attached no conditions to the review, and I retained full editorial control.