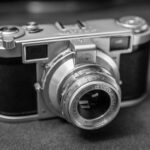 I wasn't sure about running colour film though the Lordomat. It seemed a little anachronistic, given that colour film wasn't in everyday use by amateurs when the camera was manufactured. On the other hand, creative anachronism isn't a bad thing, and a friend of mine said I should try Ektar, so I was swayed. As usual, I'm glad I listened to other people, because I'm pretty happy with the results.
Ektar 100 film was first released in 2008, roughly fifty years after Leidolf made my Lordomat.
Film development and scanning by Photographique.