This is not a review, but more of a public service announcement. If you want a review of Logitech's "Ultimate Ears" Mini Boom portable bluetooth speaker, you should go read The Wirecutter's excellent review, which is what convinced me to try it.
I just wanted to acknowledge here that their review is spot on — this thing is a fab little speaker — and provide a photo that gives a better idea of the size of thing, which surprised me when it arrived, despite having seen all The Wirecutter's pictures of it: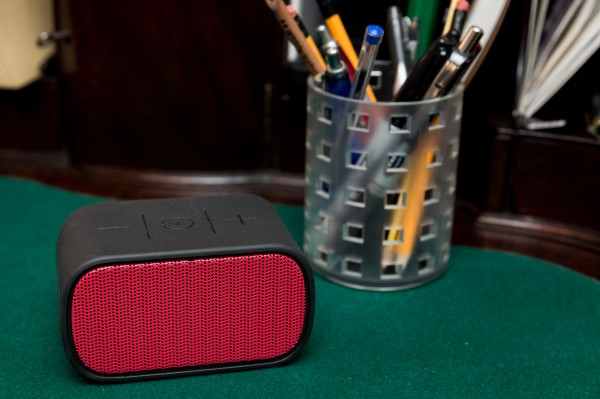 So, it's tiny. And it's the best sound I've heard coming from anything that small. And its battery lasts ten hours, and it's perfect for moving around the house when I'm, say, doing the cleaning. And it's fab to keep in the bathroom, as it doesn't need power, and you can hear it over the shower. It can also blast through the kettle and the coffee grinder in the kitchen, though I'm loath to fire it up that loud first thing in the morning.
It's perfect for podcasts; it works very well for voices, and podcast listening doesn't gain much from stereo separation1. It is also one of the least-annoying Bluetooth devices I've ever used, just plain working the vast majority of the time.
Anyway. Before this turns into an actual review, I should stop. I just wanted to enthuse about a lovely little piece of kit. If you have any desire for a portable Bluetooth speaker, check it out. (Just make sure you buy the Mini Boom specifically; there's an older, similar product called the Mobile Boombox. You don't want that one.)
You can, though, apparently link two of these things together to make a stereo pair. I'm thinking of buying another one to try that, and also so just I can keep one in the bathroom and one in the kitchen. [↩]