What's bright green and surprisingly loud?
No, this *is* still a tech blog, not a Kermit the Frog fan site. So the answer is the Lumsing Portable Waterproof Bluetooth Speaker.
As you'll remember, I recently invested in an Altec Lansing Life Jacket speaker, having seen its virtues extolled on The Wirecutter. It's a great gadget, but quite pricey, so when Lumsing offered to send me some of their gear to review, I figured I'd take their significantly cheaper portable speaker for a spin.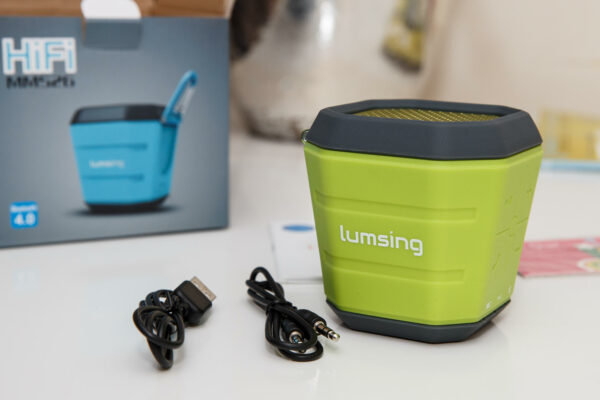 What arrived was reassuringly solid. And very green, as I've mentioned, though it is available in other colours. Lumsing's speaker is both splash proof and shock resistant, and it does feel like it's suitably solidly built. Pleasantly weighty in the hand, it's got a rubberised body topped with a well-machined metal speaker grille. Or fronted by a well-machined speaker grille, maybe. The Lumsing is as happy to sit on its base, or on three of its four sides (the fourth side has a carabiner-style metal clip for hanging the speaker on a beach bag, or what-have-you.)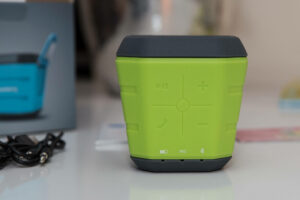 The on/off switch is on the base. The other controls — volume, play/pause, and "answer phone" — are on one of the sides, along with the battery and Bluetooth indicators and the built-in microphone. On the opposite side, under a waterproofing rubber flap, are the micro USB socket for charging, and a standard 3.5mm aux input jack. Each has enough clearance that most plugs should fit with no problem.
The Lumsing paired fine first time and worked without any major problems with both my iPhone and my Nexus 4. As long as I stayed in the same room, the connection was generally good enough to stream audio, though I did get occasional glitches when I was moving either the phone or the speaker around when some distance away. This wasn't frequent or long-lasting enough to cause a problem, though, and is pretty common with Bluetooth devices.
Speaking of Bluetooth, it's a shame the Lumsing's volume control is independent of the paired device's volume control. The Mini Boom is smarter about this: the volume controls on the speaker actually control the volume setting on your phone, so there's a single, unified, volume setting. The Mini Boom also shows its battery level in the iPhone's status bar, unlike the Lumsing.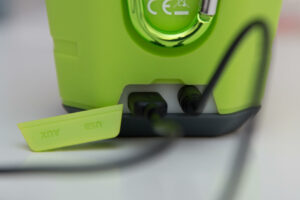 But those are minor quibbles. The important thing is the sound. Audio quality is very good for a tiny little speaker like this. It's extremely good for spoken word stuff — I've listened to many podcasts though it, and voices are clear and natural-sounding, with a good mid-range punch. The volume goes high enough without distorting to be heard over a boiling kettle or a running shower with headroom to spare. I've cooked in a busy kitchen with extractor fans, frying pans, an oven and the taps running and heard this little speaker just fine over it all.
Music is definitely better than you might expect from a small mono speaker, too. The Ultimate Ears Mini Boom edges it out on fidelity, but not by much. There's also a Overall, it does an excellent job.
One thing I don't like about it is that it talks to me. In at least two different accents, and somewhat loudly. Here's an example of it switching on and pairing, and, as a bonus, some idea of the sound quality for music (the sound for this video was recorded on the pretty-good microphones of a Tascam DR-05.)
(Music: Baja Taxi, by Brain Buckit, courtesy of the Podsafe Music Network.)
Now, I'm not a fan of tech that talks to me. Maybe I just watched 2001: A Space Odyssey at an impressionable age, but I'm much happier with the charming, discreet chimes of the Mini Boom. Perhaps that feature of the Lumsing speaker will go down better with the Siri generation.
The Lumsing can work as a hands-free speaker/microphone for phone calls, too. This isn't a feature I'd use a lot (people still make phone calls on their phones!?), but I tested the quality of the microphone against the Mini Boom by calling them both through Skype, and found it to be pretty quiet in comparison. Neither of them were great: the Mini Boom was so loud it clipped and distorted. Here they are, back to back.
Battery life is a claimed eight hours in the manual, and that sounds about right. I've had the speaker for a couple of weeks, using it daily for an hour or so, and I've only charged it a couple of times.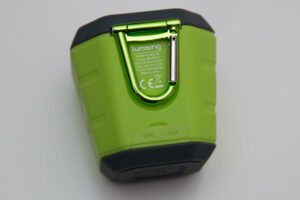 Although it claims to be "waterproof", it's actually what we'd call "splashproof" in the UK. You can't immerse it in water and expect it to work afterwards. I've rested it on the side of the bath while I've had a shower, and changed the volume on it with dripping hands halfway through the washing up with no ill effects.
I didn't test its claims of being shockproof too violently. I've thrown it across a room a couple of times, but only at a soft target like the bed or a laundry hamper. I can't warrant that it'll survive being kicked around the beach by your kids, but I'd certainly be prepared to risk it. It feels strong, and in an absolute worst-case scenario you're only losing twenty quid.
Conclusion
And that's a very big attraction of this very little speaker: it's currently selling for £20.49. Which is pretty amazing. The audio quality is very good, especially for podcasts, and you can buy nearly three Lumsing speakers for the price of the Mini Boom
, currently £60.
They're both good products, they're both made in China, and while the Mini Boom is, to me, the more refined choice, I wouldn't necessarily take it to the beach and subject it to sea and sand like I would the Lumsing.
Overall verdict: recommended. While having it shout "Bluetooth!" at me when I turn it on is mildly off-putting, it's still a very good product at a steal of a price, and I'll be using it as my bathroom speaker for the foreseeable future.
The Chinese Amazon sellers do need to do something about their product branding, though. If someone comes to my house and says, "hey! That's a nice speaker? What is it?" then I'll be a lot happier if they're pointing at the Ultimate Ears Mini Boom
than at the Lumsing® Portable Waterproof Bluetooth 4.0 Speaker Wireless Double-coil Speakers with Microphone Rechargeable Battery up to 8 Hours Playtime, Outdoor Sport Design Splash-proof & Shock-proof & Dust-proof Speaker — Green
…
---
Disclosure: Lumsing sent me their speaker for free to review. They attached no conditions to the review, and I retained full editorial control. Links to products above are Amazon affiliate links, so I'll get a small kickback if you buy them. Hey, I do have a technology habit, several domain names and a VPS to support…