Recently, I caved in and bought my first iPad. It's wormed its way into various parts of my life: the morning crossword, making big, heavy textbooks easier to read, so forth. Given that my MacBook Air is very elderly, and Apple seem to have given up on making new computers, I thought I might start doing actual work on it, too.
However, my typing on any on-screen virtual keyboard is bad. I mean awful. I've never got the hang of them. So I figured I'd also grab a physical Bluetooth keyboard.
I ended up with two keyboards, in fact. The same day I bought a Logitech Keys To Go, Ruby from 1byone got in touch, wondering if I'd like to review the 1byone portable folding Bluetooth keyboard.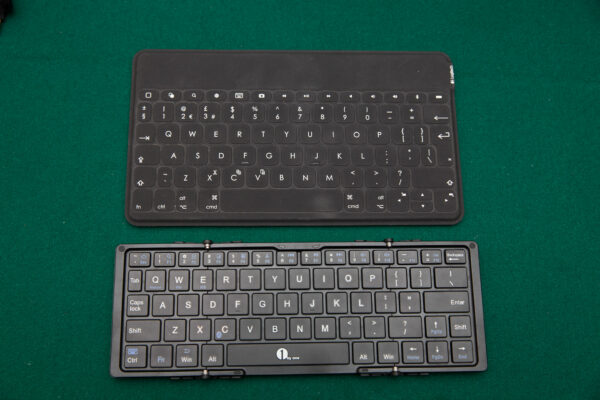 This review will be mainly about the 1byone keyboard, but I'll be dragging the Logitech in for comparison purposes here and there.
First Impressions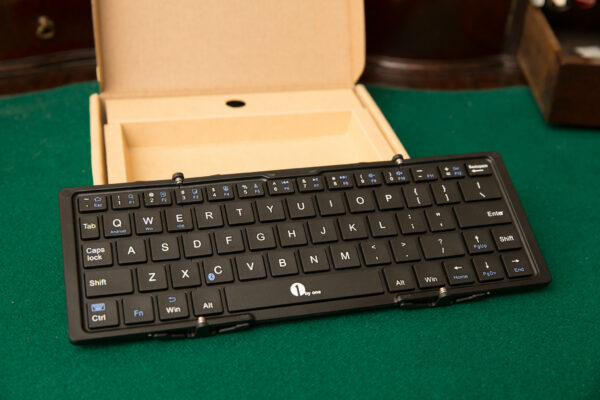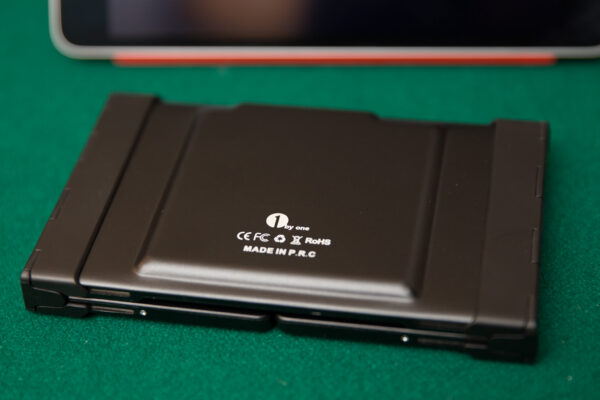 The 1byone keyboard makes a good first impression. A pleasingly solid metal case unfolds at both ends to reveal a small chiclet keyboard. When folded, the keyboard is enshelled in metal in a way that makes me think it will survive being mixed freely with the usual hefty clutter in my rucksack. (This is in contrast to the Logitech, which feels like it'll bend in half far too easily.)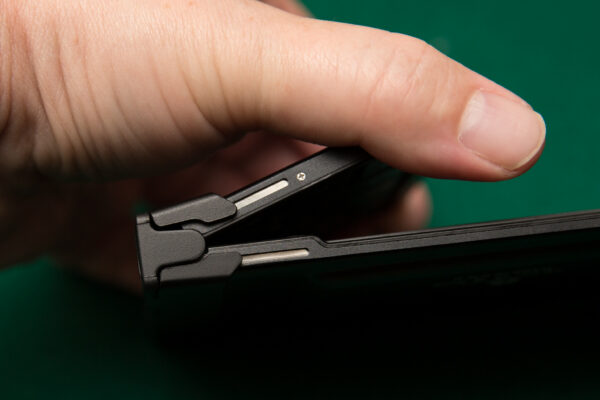 Unfolded, it's only really the humps at the hinges that give away the folding mechanism. Those humps are a little intrusive, but nothing like as annoying as I thought they'd be in practice.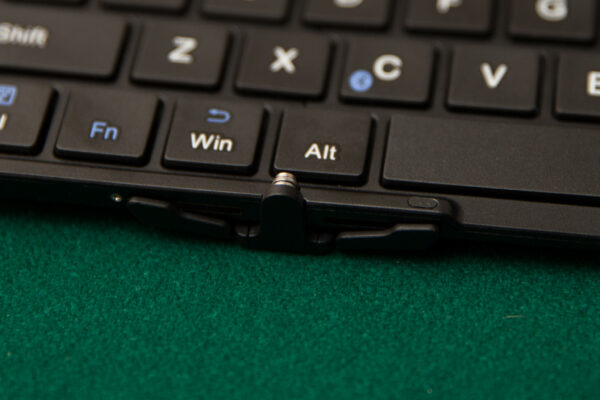 Pairing was easy. I only had to open the keyboard and tap on it in the iPad's Bluetooth settings and I was done. The connection's been 100% reliable. There's an obvious Bluetooth function button to invoke pairing with a new device when I want my phone to get in on the action.
There's a micro-USB cable included.
Layout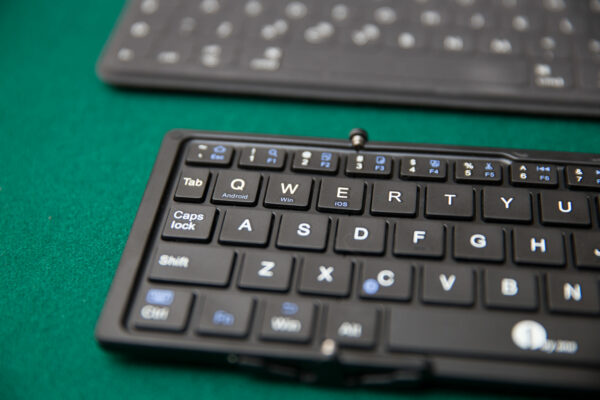 All good so far. But now we get to the layout. There are two things to note here, especially if you have iOS devices and are British.
Although the 1byone keyboard can be used with Windows, macOS, iOS and Android, its layout is very definitely Windows. For an Apple user, the keys are in the wrong place, especially the modifier keys.
Apple's bottom-row layout starts Function, Control, Alt, then Command. The 1byone layout is Control, Function, Command, and Alt. This is "Windows order", with the Alt just to the left of the spacebar. The key you press for Command on iOS and macOS is labelled "Win". This is not a win.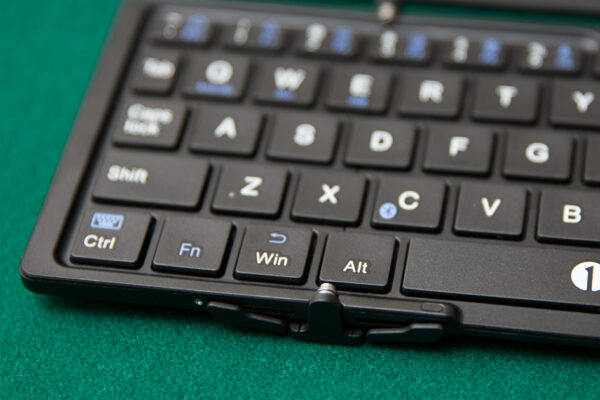 It has all the right keys, just not necessarily in the right order.
This won't be such an issue if you're using the keyboard for Windows or Android, or want to use it across a range of devices, where compromise is inevitable.
The second problem is that it's a US keyboard layout, not UK. Not having the £ key labelled isn't so bad; it still works and it's in the same place as an Apple UK keyboard. (I'll not mention the €.)
The thing that keeps tripping me up is the Enter/Return key. This is in the US style, a single row high, with a backslash key above it, and a tiny backspace relegated to the thin top row.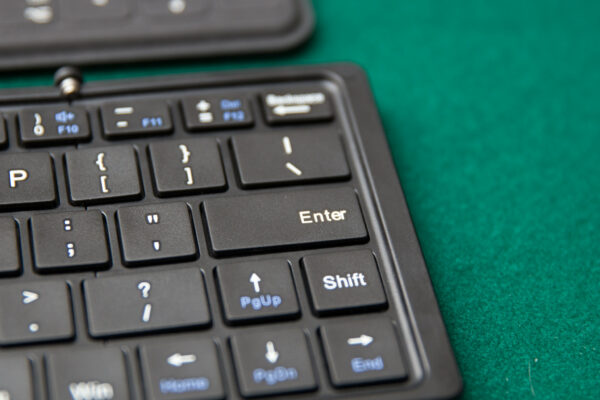 Used to the full-height British Return key, I keep hitting backslashes instead of both Backspace and Return on the 1byone keyboard. It's annoying. When I bought the Logitech Keys To Go from Amazon UK, it arrived with a UK layout as expected.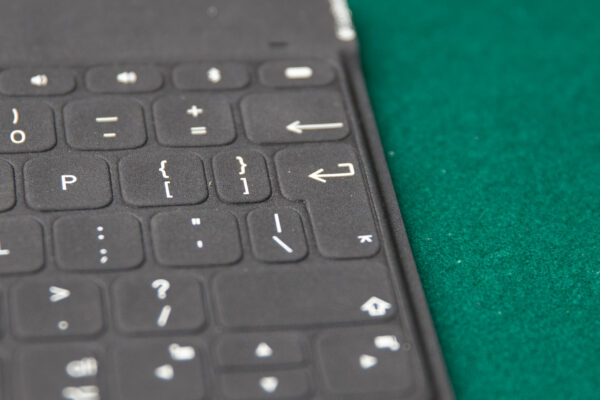 Finally, the top row — the number keys — is just a little off. When I want to type a 1 I type a backtick. When I want to type a hyphen I type a 0. This may be something that I get used to; every keyboard is a little bit different, and with enough experience I can adjust.
Look
&

Feel

The feel is very good considering the price, currently £20.99 on Amazon UK. It's a little springier than an Apple keyboard, with more travel, but that's true of most keyboards. I only needed a short period of adjustment before I got used to hitting the keys just a touch harder and further than normal.

The whole thing feels pretty good, in fact. When you're finished, they keyboard folds up without fuss and closes satisfyingly and magnetically. As you'd hope, there's no on/off button; the folding and unfolding action does that automatically. The materials — both the plastic of the keys and the metal of the case — feel of a decent quality.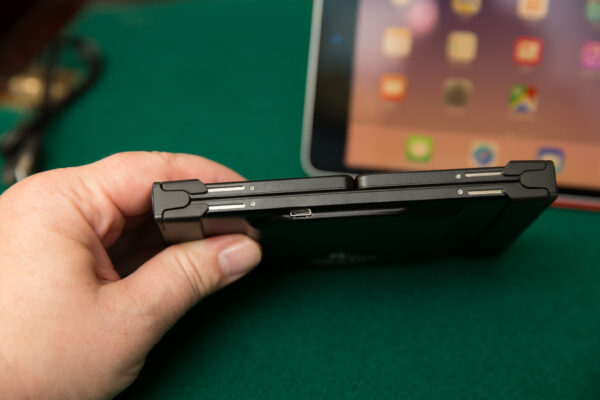 (This contrasts with the Logitech Keys To Go, which is odd. A shallower, lighter key travel is undermined by a spongey feel exacerbated by the strange flock-wallpaper-like coating on the top of the membrane cover. Ugh.)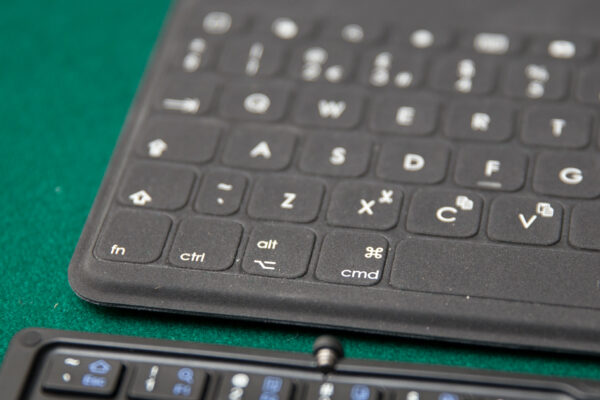 As keyboards go, the 1byone's looks are pretty average. It has all the visual appeal of a standard Windows keyboard, which is to say, not much. My friend Sarah said, "it looks like something from the 1990s". But then so do most keyboards.
Speed
I found an online typing speed tester, and gave the 1byone keyboard a workout alongside a few of my others.
To keep things as fair as possible, I did these typing speed tests after writing the whole of this review using the 1byone keyboard, to get used to it as much as I could.
| Keyboard | WPM | Mistyped Words | WPM (adjusted) |
| --- | --- | --- | --- |
| IPad on-screen keyboard (portrait) | 23 | 3 | 20 |
| IPad on-screen keyboard (landscape) | 25 | 0 | 25 |
| Logitech Keys To Go | 72 | 0 | 72 |
| 1byone Folding Bluetooth Keyboard | 74 | 0 | 74 |
| Apple Desktop Bluetooth Keyboard (my usual) | 86 | 1 | 85 |
As I said, I'm dismal on Apple's virtual keyboards. However, on a physical full-size keyboard, also made by Apple, I can hit 85 words a minute.
On either of the physical Bluetooth keyboards, I come fairly close to my speed on my normal desktop keyboard. This is pretty impressive considering their size. The 1byone edged out the Logitech because of its better, discrete keys and more precise action.
However, this particular typing test focuses on everyday prose. There's nothing in the way of the modifier keys or the numbers. While the 1byone did very well for normal typing — letters and punctuation — I find that it's less good for all the subsidiary typing. Numbers, keyboard shortcuts, and so on. This is all due to its non-standard layout.
Conclusion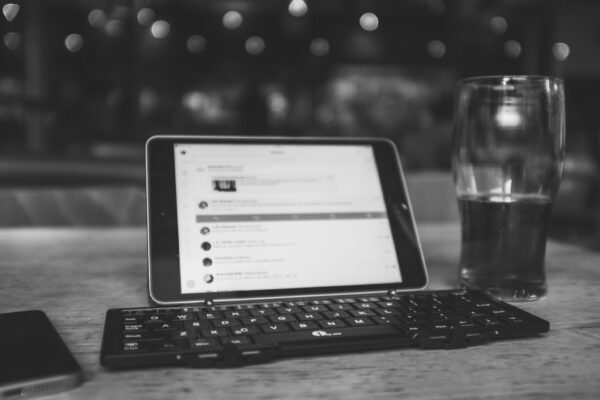 What I'd like is a keyboard like the 1byone keyboard, but with the layout of the Logitech — or any other standard British Apple keyboard — and Apple-appropriate keycaps. I don't want a Windows key, and I'd rather like to have my £ sign back.
The 1byone keyboard is a good keyboard, physically and electronically, but it misses out on my vote because I'm British and I use Apple gear. If you're American and use Windows or Android I think it's a fine little keyboard for the money.
---
As I mentioned, 1byone sent me this keyboard to review for free. I don't think it influenced my review, but obviously you'll have to make your own judgement on that one…