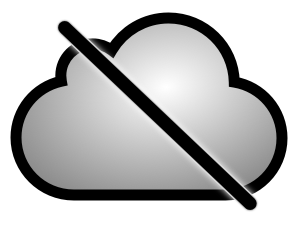 EDIT: Whoop! Looks like YouOverRotated's comment below was spot-on. Thanks! See my new post on how that suggestion got my playlist syncing working again.
Oh, iTunes. Does it have to be this way?
So, I now have iTunes Match, with all of its associated Cloudy goodness. But I also have a problem. Can anyone help me solve it?
Here's the circumstances:
I like listening to podcasts on long journeys in my car.
My car, a Mini, has an iPod connector in the glovebox, which is therefore where my iPhone lives while I'm driving.
My car's iPod connector makes certain playlists available through the buttons on the stereo. Specifically, if I have a playlist called "MINI1_whatever", it's selected when I press button 1; "MINI2_*" is available on button 2, and so on.
My MINI4_Special playlist is my favourite playlist for long journeys. It's a (non-Smart) playlist I pre-fill with podcasts that I want to listen to while I'm driving. I specify which podcasts, and the order I want to hear them.
Up until iCloud started raining on my parade, this all worked fine. Before I drove anywhere, I'd fire up iTunes, fill up MINI4_Special with the podcasts I wanted in the order I wanted, sync my iPhone, and it would all be there and waiting for me when I plugged the phone into the car and pressed button 4. If I fancied listening to music for a while, I could press another button to listen to another playlist, then later hit "4" again and go back to the podcasts.
But now — disaster!
I paid my £21.99 for iTunes Match, and turned on the iCloud stuff on my Mac and my iPhone. And now I can't sync my MINI4_Special podcast playlist with the iPhone any more. In iTunes, the playlist has a little sad picture of a cloud with a line through it. It tells me:
This playlist is not eligible for iCloud. iCloud playlists can only contain music. "MINI4_Special" contains other media types, and will not be uploaded.
And I can't for the life of me find any way of getting the playlist back. No matter what I do, it won't sync to the phone.
Did I just pay Apple £21.99 to shoot myself in the foot? Am I being dumb? Bueller? What am I missing? All help gratefully received.