In my last post, I described the problems I was having syncing manual podcast playlists between iTunes and my iPhone after I upgraded to iTunes Match/iCloud. Well, it looks like I got an early Christmas present from YouOverRotated, who commented:
I was in the same exact situation, except mine's a BMW, not a Mini =). I found that if you disable podcast syncing, do a sync, and then re-enable podcast syncing and sync again, your podcast playlists will come back. I hope that works for you too.
As soon as I got back to my iMac, I tried this workaround. Here's what I did, exactly:
I double-checked my phone. There was definitely no "MINI4_Podcasts" playlist.
I docked the iPhone with my iMac.
I selected the iPhone in iTunes' left-hand pane.
I switched to the "Podcasts" tab of the phone management screens.
I unticked the "Sync Podcasts" checkbox.
I hit "Apply".
I waited for the sync to finish.
I re-ticked the "Sync Podcasts" checkbox. Handily, all the options about which podcasts to sync were remembered from before.
I hit "Apply". This time, the sync took quite a while, as it had to re-copy the podcasts (all 36 of them, in my case) back to the phone.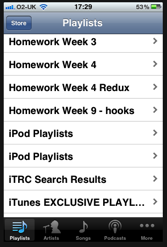 So, did it work? I fired up the Music app on my phone. Now, my MINIn_* playlists are all in a folder called "iPod Playlists". Bizarrely, when I launched the "Music" app on my phone to have a look, I now had two identically-named "iPod Playlists" folders. The first was as it was before — it contained only the Smart playlists, "MINI1_RecentlyAdded", "MINI2_Recent_Podcasts" and "MINI5_5Star", with no sign of the manual podcast playlist, MINI4_Special.
However, the second copy of the "iPod Playlists" folder had "MINI1_RecentlyAdded", "MINI2_Recent_Podcasts", "MINI3_Audiobooks", and "MINI4_Special", the manual playlist that was missing. (Oddly, this "duplicate-but-not-quite" folder is missing "MINI5_5Star". I've no idea why.)
So, though it looks a bit broken, at least the manual podcast playlist seemed to be back on my phone. I headed out to my car, and tried it, and my stereo found all the MINIn_whatever playlists just fine, regardless of which of the two odd duplicate playlists they were in.
W00t! So, thank you very much, YouOverRotated, looks like you're quite right — turning off podcast syncing, and then turning it back on, seems to be a workaround to this odd problem. Yet another wacky workaround to make podcasts work properly in iTunes — but at least it's working!
I hope this helps anyone else who's been having trouble. Happy holidays!