I've made a couple of improvements to the home working setup recently. The first was upgrading my monitor, helped along by a generous donation from my parents (thanks!)
I went from an elderly-but-OK AOC display that I happened to find lying around the house in March, when the first lockdown started, to a 29″ LG Ultrawide (£). It's a pretty nice upgrade, and I'm really enjoying the extra width while I'm working. Since the upgrade,I haven't felt the need to have the laptop open alongside as a supplemental screen like I did with the AOC.
It's not brilliant quality compared to the 27″ Retina iMac display I use for my spare-time fooling around, but Windows' font rendering is actually pretty good on lower-res monitors and the work laptop has more than enough oomph to drive it. (And 2560x1080 isn't exactly low resolution; I've just been spoiled by the Mac…)
The upgrade I did today, though, has mostly been a bit lower-tech. I want to be able to ignore the WFH setup as much as I can when I'm not actually "at" work, and although it's set up on a folding table I could never really be bothered to tidy away the cables, plus I didn't have a designated place to tidy away the work stuff.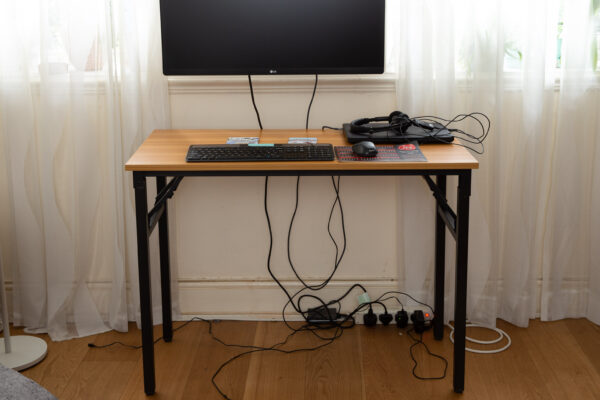 So, Argos to the rescue. I bought an inexpensive but okay-looking blanket box, drilled a bunch of holes in it for cables, and set everything up so I could quickly tear down and set back up my work setup with it looking reasonably tidy either way. A couple of extra bits of cheap cable management (£) really helped hide things away while keeping them accessible.
I'd also been thinking about making that giant monitor a bit more useful during non-work times, as unmounting it from the wall and tidying it away wasn't terribly practical. I'd already been eyeing up DAKBoard and a coincidental natter with Shereen and Geoff on Twitter led me to dusting off an old laptop and setting things up so the giant monitor displays a random photo from one of my Flickr albums along with upcoming calendar events, a weather forecast and a clock.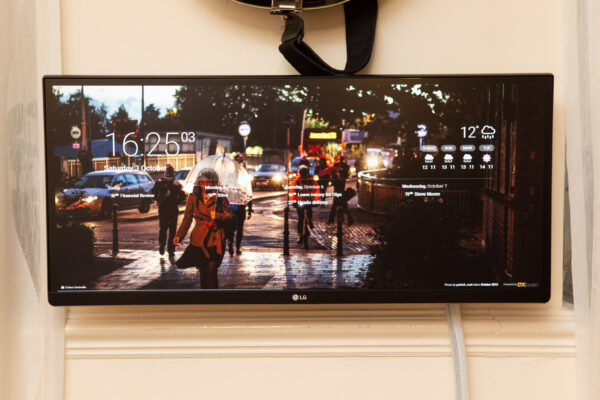 So, my work from home setup now transforms from this (yes, I invested in some extra desk accessories):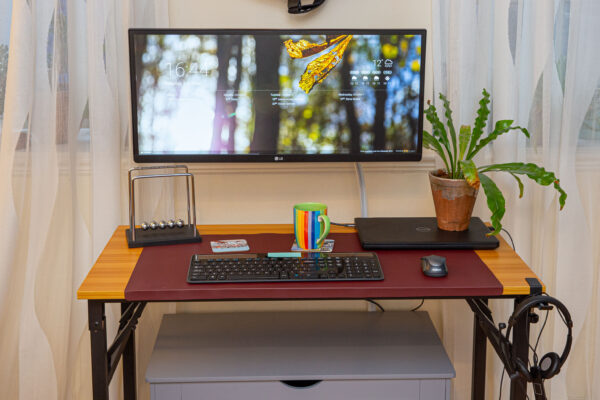 …to this (the desk folds up and stows away in an alcove elsewhere):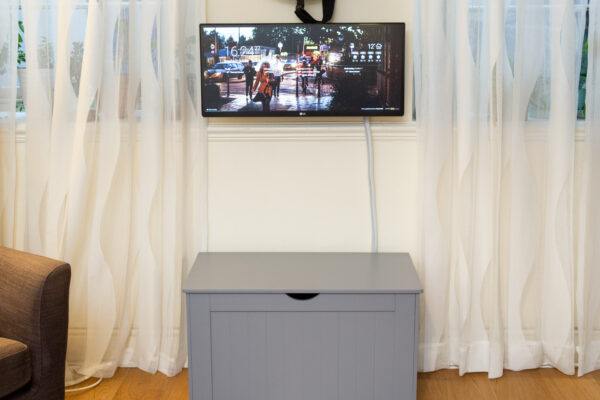 Much tidier.