Well, it looks like I've been posting my annual favourite photos post every year since 2012 now. That's a surprising amount of consistency for me.
My photography has been very much on the back-burner this year. Well, that would imply there's been a front-burner, which would be a lie. But I did at least manage to find a half-decent photo for every month, I think. Anyway. Without further ado, let's get on with it. As usual, if you find Flickr a better viewing experience, the Flickr album of all these is here.
January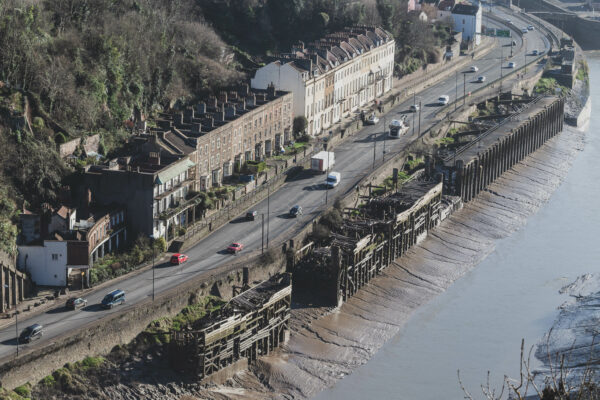 I'm still continuing my One Mile Matt project, albeit very slowly now. According to the stats I've walked more than 800km around Bristol as part of my random investigations into various bits of the local history and landscape. Here we see the Hotwell Road near me, with the old landing stages for the Campbell brothers' paddle steamers gently mouldering into the river.
The word Vestigia was in my mind not just from Ben Aaronovich's Rivers of London series but also from Moina Mathers' magical motto Vestigia Nulla Retrorsum, (loosely) "never to retrace my steps." It seems appropriate for a lot of the forgotten bits of Bristol I've photographed, which will never be restored to glory. More on magical inspiration for photo titles later…
February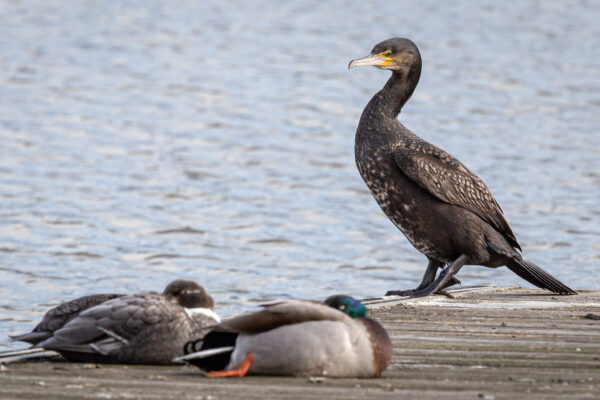 I took a trip to Bedminster's branch of Taunton Leisure in February to get a new pair of walking shoes, and along the way found this cormorant, who appeared to find the nearby ducks' lack of work ethic appalling.
March
I got out of the habit of riding on Bristol's ferry boats during the pandemic. It's a shame, as they offer such great photo opportunities.
April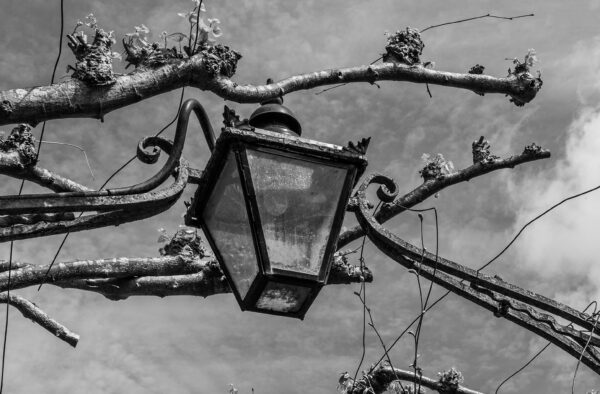 The walkway through St Andrew's Churchyard in Bristol is nowadays known mostly as Birdcage Walk, which seems fitting given the look of it in this photo I took all the way back in 2007. However, this place name has been redistributed from the diagonal path across the adjacent Victoria Square, which used to be lined with tall railings. This name change still rankles with older locals, who try to keep the name they're used to, "Lime Walk", in use. I snapped this lamp that's nestled in amongst the pleached limes on one of my many wanders.
May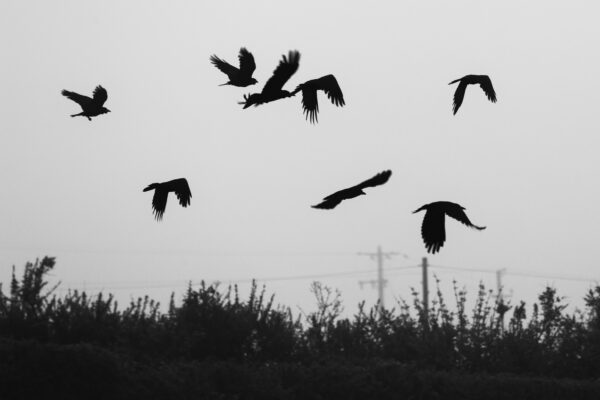 A rare photo from outside Bristol, not that you can tell from looking at it. In May I stayed for a week in a little modern "wood cabin" in Pendoggett, Cornwall. While there were plenty of photo opportunities along the way — I walked a section of the coast path, took a trip to Boscastle (mostly to visit the Museum of Witchcraft) and spent a lot of time in Port Isaac (where apparently I could even have snapped Martin Clunes, as the last season of Doc Martin was being filmed while I was there) — it was this snap of crows gathered over the field overlooked by the cabin that seemed to summon up the week's mood the best.
June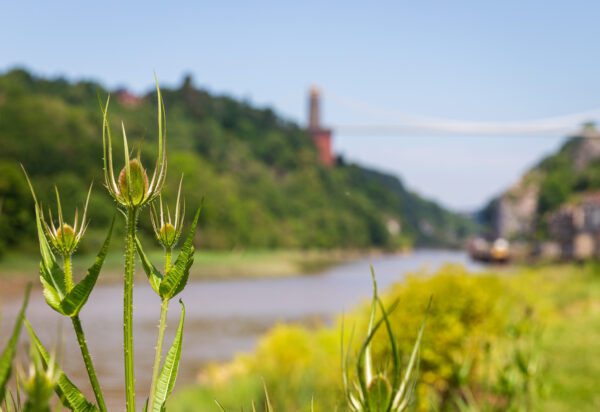 I often pluck titles for my photos from fairly oblique references. Although "Things Near and Far" is very on-the-nose for this picture taken it's actually taken from the title of a volume of Arthur Machen's autobiographies. I read The Hill of Dreams earlier in the year and loved it, so I think I must've been following up on that by reading Things Near and Far when I took this picture.
As with other excursions this year — my visit to the Museum of Witchcraft, for example — reading Machen follows on from my random researches into the Hermetic Order of the Golden Dawn, of which he was a member. I'm glad of where this odd fixation has led me; Machen's semi-autobiographical description of his struggles to develop his fiction-writing skills in The Hill of Dreams are some of the best I've ever read:
They were good nights to remember, these; he was glad to think of the little ugly room, with its silly wallpaper and its "bird's‑eye" furniture, lighted up, while he sat at the bureau and wrote on into the cold stillness of the London morning, when the flickering lamplight and the daystar shone together. It was an interminable labour, and he had always known it to be as hopeless as alchemy. The gold, the great and glowing masterpiece, would never shine amongst the dead ashes and smoking efforts of the crucible, but in the course of the life, in the interval between the failures, he might possibly discover curious things.

Arthur Machen, The Hill of Dreams, ca. 1895
July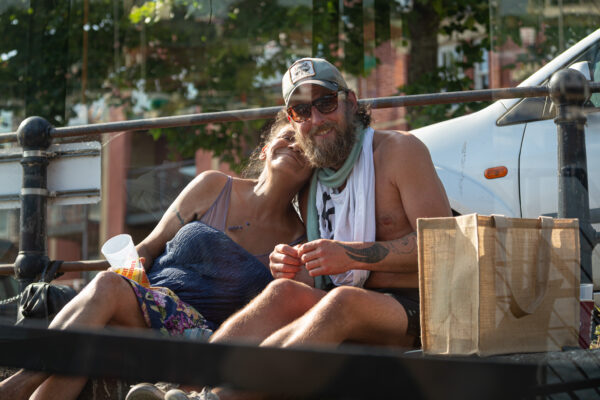 July was a hot one in Bristol. I took a moment out from the Harbour Festival to sit in the air-conditioned forward section of the Grain Barge. This couple signalled to me that I should take their photo, and I was happy to oblige. I wonder if they'll ever see it? They were gone by the time I finished my pint and headed back out.
August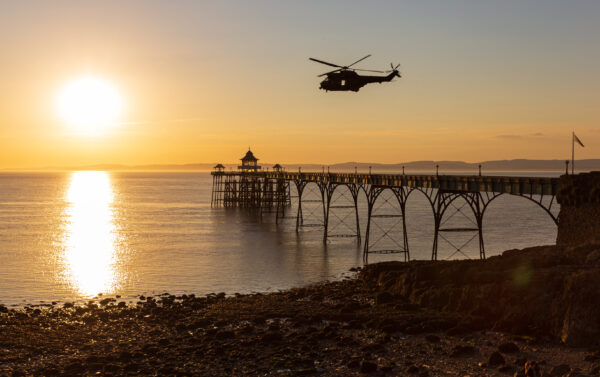 The heat continued in August. I foolishly decided to go to Clevedon for the late afternoon, thinking there might be some cool sea breeze or something. Instead there was unrelenting heat, little shelter, and the only two places I'd wanted to go — the pier and the Lover's Walk coastal footpath — were closed.
Nevertheless, I had the idea of a sunset photo of the pier in my mind, so I waited it out with the help of a pub or two (the Little Harp, a Greene King pub towards the Marine Lake, is one of those big pubs that always seems to be a bit better than I expect it to be), took a few test shots, then settled in to snap a nice, if clichéd, pier photo.
What I wasn't expecting was for a big military helicopter to fling itself down that section of the coast at exactly that moment, but I kept my head and kept snapping, and this photo of what I presume is an RAF Puma was the best of them. At least it made the photo a tad less clichéd…
September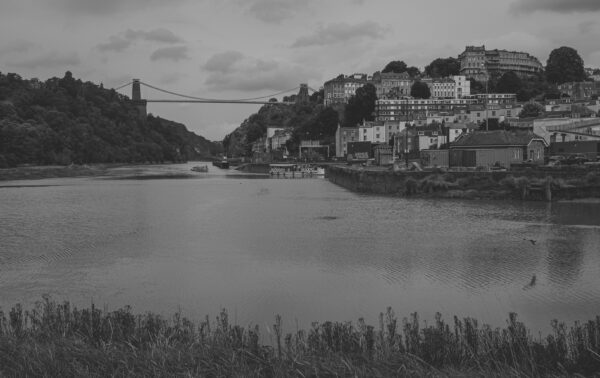 Well, it wouldn't be my annual photo roundup without a fairly straightforward shot of Hotwells and the Suspension Bridge taken from this viewpoint. There's something I'll never stop loving about this view (unless the council manage to wreck it with the Western Harbour development, which wouldn't necessarily surprise me) and the fact that this photo opportunity is bang on my usual walking path to get south of the river means I'll always have plenty of chances to snap it. I like to think it's got a different mood every time.
October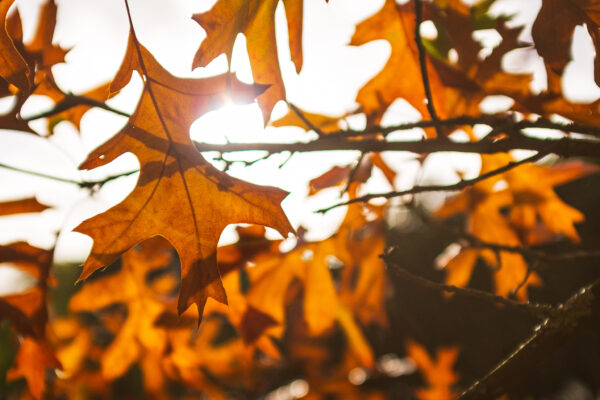 As with the Pendoggett crows, this is another photo that I took while outside Bristol but where you can't really tell that from looking. I did take more "Stourheady" photos of Stourhead while I was there with my friend Lisa, but this was probably my favourite photo. I think perhaps this is a reflection on the not-terribly-brilliant quality and quantity of my photography this year. Looking back, I've taken half as many photos this year as I have in any of the preceding ten years.
Stourhead ended up on my list of places to visit after Lisa and I came across this replica of the original Bristol High Cross on one of my wanders; here's my picture of the original, still in place at Stourhead after its move there in 1764.
November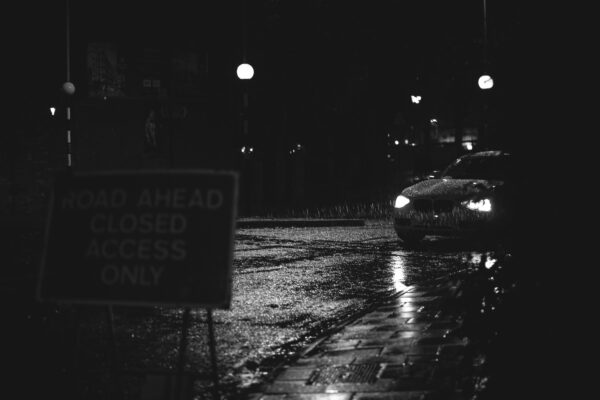 Mind you, another reason I took fewer photos is that my main camera broke. Not that it made too much impact, and it was perfectly fixed by Black on White in Redland, who are a great local repair shop, though apparently they're focusing more on analogue cameras these days, but it did mean I was without my Canon 6D for about a month.
I took this photo a day or two after getting the camera back, anxious to put it through its paces and determined to get some photos no matter what the weather. I liked several of the photos I took on this rainy walk home from work in the dark, and I mostly picked this one because my colleague Penny liked it most of the set and on a second look I also enjoyed its sense of menace.
Hopefully Redcliffe Bridge will once again be fully open — it being closed has been a pain for my commute. Back in November it was fully closed to pedestrians and traffic and I think this BMW was one of many vehicles to disbelieve or miss the ROAD CLOSED signs and have to turn around and come back out after mistakenly driving down the access road.
December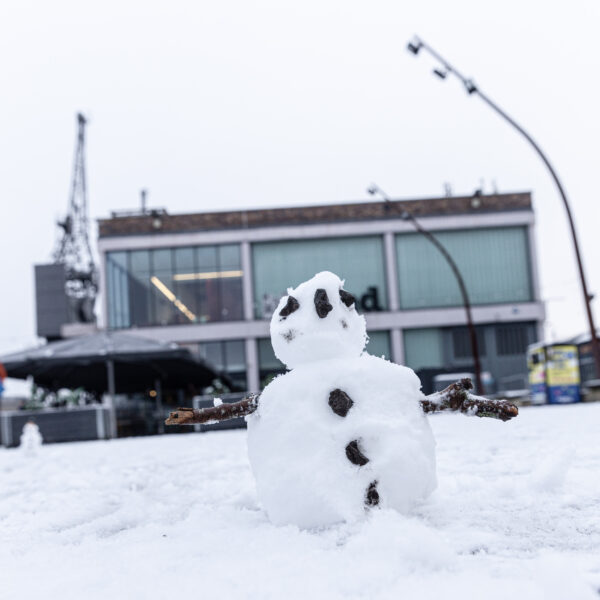 So far this winter we've had a single day of light snow, but that was enough for my friends Sarah and Vik to call me up and ask if I'd like to have a harbourside wander before it melted. We did, and I was glad, and finding this tiny snowman in the kids' play area at the side of the M Shed was one of the delights.